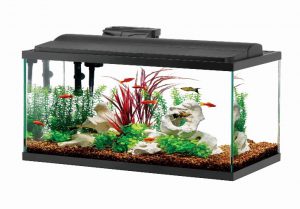 Ensuring a healthy habitat is key in maintaining the health of the fish. The regular maintenance of the aquarium provides a safe environment for fish. Most of the aquarium owners face a roadblock in knowing the right maintenance. Some of them don't give much thought to it as they believe that the filter in the aquarium and a few bottom-feeding fish are sufficient for its cleaning and maintenance.
Some are of the idea that nobody is cleaning oceans, lakes or rivers. But they need to reflect on the fact that unlike large bodies of water in nature whose cleaning is maintained by huge waves and currents of circulating water, rainfall that adds freshwater and living plants that produce oxygen and the downright volume of water that tends to dilute any detrimental toxins; an aquarium contains only relatively less quantity of water. The filter installed in the aquarium can certainly help, but if not properly cleaned or maintained they get clogged and can be more damaging than helpful.
In the meanwhile, the fish continue to produce harmful byproducts and uneaten food decays that slowly buildup. An aquarium is a closed system. If its hygiene is not taken into consideration, its habitat will turn into more and more hazardous for your fish. To ensure its cleanliness, nothing goes in or out of it until you have a hand in making this happen. There are professional companies all across the USA who are specialized and take pride in providing cleaning services for aquariums. Here is a list of few of the most well known companies in the US:
Aquarium Services Corp
This company located in Connecticut has been covering a vast range of aquarium services since 2005. It serves as a superlative resource in taking care of your underwater friends from aquarium installation to aquarium cleanings to emergency services. Whether it is water testing or changing, cleaning inside or outside the glass, cleaning skimmers or filter media or tank decoration, they cover it all; in addition to installation and evaluation of the aquarium.
Luxury Aquarium Maintenance
This company based in Huntington Beach, California, provides professional aquarium services for both commercial and residential needs on negotiable prices to its clients. Their services include all sorts of aquarium services, repairs, maintenance, and fish tank assistance. 
Aquarium Cleaning Service
Aquarium Cleaning Service is a mobile service in Georgia that is responsible and takes care of every conceivable type of facility for aquariums and ponds as well. They clean, maintain, set up and move all sizes of aquariums. They come weekly, bi-weekly or monthly depending on the type of your pet fish. 
Deep Sea Aquarium Maintenance
This company is responsible for providing a comprehensive array of aquarium services throughout Los Angeles and Orange county areas since 1994. From providing installation of custom themed aquarium designs to aquarium relocations, they perform extensively in cleaning services like algae and substrate cleaning, changing the water with reverse osmosis water, water testing and complete health checkup of fish.
Crystal Clean Aquariums 
Crystal Clean Aquariums has been striving productively to streamline the cleaning task of its clients in the maintenance of their aquariums by offering efficient cleaning services like 20-30% of water change, siphon gravel, cleaning of glass, and decoration, water testing and analysis, filtration and heating maintenance and algae removal throughout Connecticut and some portions of Massachusetts.
West Aquarium Maintenance 
West Aquarium Maintenance is another company located in Las Vegas, Nevada that is responsible for the efficient and systematic cleaning of aquariums. This company is working around the clock offering all sorts of cleaning services to freshwater aquariums, seawater aquariums, reef tanks, ponds, fountains and water features.
Total Aquarium Services
This company has an experience of over 25 years in building, installing and maintaining both freshwater and seawater aquariums. Based in Florida, USA, its services range from cleaning, maintaining, and servicing the aquarium to custom aquariums, repair, to fish tank delivery and set up.