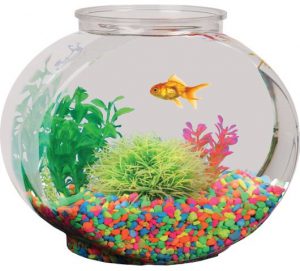 The best part of fish keeping is not just owning the fish itself but decorating the aquarium. With so many amazing aquarium decoration ideas out there it might be difficult to think of what will be perfect. All of these ideas should be pretty affordable and feature your creativity and an artistic vision for your pet fish.
You can buy a plastic undersea plant or a standard sunken ship at any pet shop painlessly, but if you want to give your aquarium a unique look, you can also find some decorations around your own home. You can use some of the awesome everyday items such as from your kids' toys to the stuff present in your china cabinet, all of them can be great aquarium decorations as well.
Let us take a look at some of the aquarium decoration ideas which will help you in creating a beautiful tank for your pet fish.
Legos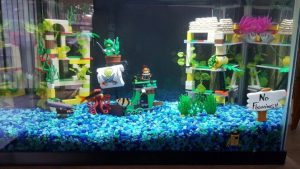 Legos can be one of the perfect aquarium decorations if you have sufficient space. You can create a whole set up of Lego scene such as you can use Lego animals and bricks to create a zoo for your fish to explore, make a Lego home for your fish by building a house, make some Lego construction vehicles and set up Lego men for working on construction inside the tank or select a movie or superhero and use Lego with that theme to recreate a fictional undersea world. The plastic used in Lego bricks is safe for fish which makes them a good option for putting in an aquarium. But remember not to use any glue with the blocks as it can contaminate the fish water, and Lego creations should be cleaned thoroughly before using them and whenever you clean the tank.
Beautiful Greenery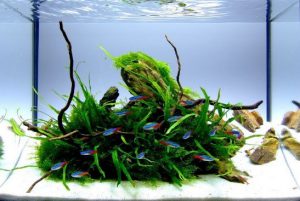 Adding plants to the aquarium is relatively inexpensive and effortless to find. You can buy them at a local pet shop. Usually, a bunch sells for under 2$. Moreover, you can obtain free cuttings from some other fish keepers at a local aquarium club meeting as well. Plants like Java fern or Java moss are comparatively easy to grow than some other plants and can create an underwater jungle if proper care is given to them.
Floating Bottle with a Message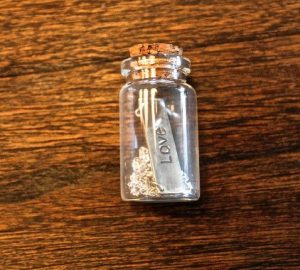 A message in a bottle is always mysterious and interesting. You can simply add a floating bottle to your aquarium with small little things you have around your home. This idea can work in almost any size of aquarium. Place a few marbles or some weight at the bottom to make it heavier on the top in order to keep your bottle floating upright. For this idea you can select an antique bottle to give some real old-world feel or choose a colored bottle for a pop of red, green or blue, or an amusing gift, you can write a special message on a piece of paper and put it in the bottle allowing the note to show through the glass. Using a glass bottle is totally safe for fish but you should avoid using plastic bottles and natural corks as corks can become water-logged and become a breeding place of germs.
China Tea Sets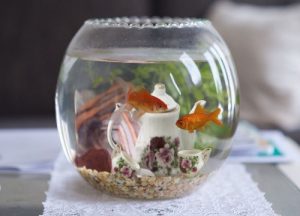 If you have a few beautiful china tea sets at home that you no longer use, they can be adorable and one of the most unexpected options for aquarium décor ideas. You can put a lace table cloth under the aquarium to create a fancy and elegant feeling from the outside or you can place the whole of teapot inside the aquarium, ensuring there is sufficient space for your fish to swim in and out of it. Moreover, you can also use your children's miniature tea set depicting a small tea party in an aquarium. You should note that only food-safe ceramics can be used in a fish tank. You should have many options since the china cabinet is full of food-safe dishes. But you should avoid using delicate finishes that can flake off like silver or gold leaf on the edges of saucers and cups.
Add Rocks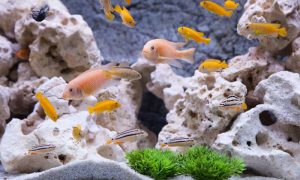 Adding rocks to an aquarium is an inexpensive idea that creates a visual delight inside it. But those rocks should be avoided that can unpleasantly change the pH. You should always test this by placing the rock first in a bucket of water taken from the tank. Test the pH of water in the bucket and then retest it each day for many days in order to determine if there is any variation.
River stones are a good choice for freshwater aquariums due to their smooth round shape suggests that moving water and anything that may discharge out of the rock has already been washed away. In addition to this, you should avoid rocks that are made of clay or mud because they can dissolve and turn the water murky. You should also ensure to sterilize the rocks by soaking them in bleach water for a few days. After that soak them in clean water along with aquarium dechlorinator before placing them inside the aquarium.
Holiday theme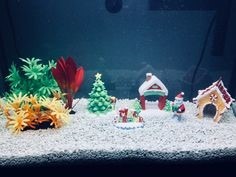 The holidays are an amazing time for being creative with the decoration of your aquariums, particularly if you have some additional holiday décor available. You can use this aquarium décor idea for any holiday from Easter to Halloween to Christmas. For trying this idea you can pick up some plain and colored glass ornaments and remove its hanging hardware. After that fill the ornaments with water and place them inside the aquarium on its bottom. Furthermore, if you have food-safe figurines for holidays such as Easter bunny-shaped salt and pepper shakers, you can put them in the aquarium. You can also add holiday lights all around on the exterior of the aquarium to bring even more beauty and cheer. But you should remember to avoid anything that is sharp or painted to ensure your fish's health and safety. Similarly, consumable items should also be kept away. But you can use such things on the outside of the aquarium. This holiday décor idea can create a cute little aquarium holiday decoration.