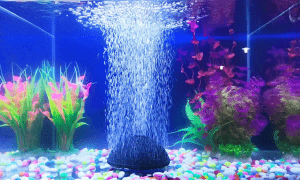 Aquarium bubbler setups are popular among fish tank owners. They enhance the appearance of the fish tanks and improve their oxygen levels. The aquarium bubbler setup process is fairly simple and straightforward. You need the required components and have to attach them, which is easy.
If you are in a hurry here are our favorite aquarium bubbler setup products:
What Do You Need For An Aquarium Bubbler Setup?
1. Aquarium Bubbler Setup Airstone
The first thing that you need for an aquarium bubbler setup is a bubbler which is also called an airstone. It creates the actual bubbles in the water. There are different types of bubblers available. Some of them are circular and quite small, while the larger ones are rectangular or tube-shaped. A few of them may come with integrated LED lights for enhancing the aesthetics of your aquarium. Choose an aquarium bubbler as per your requirements. We have found the following bubblers to be very reliable and work well for our setup: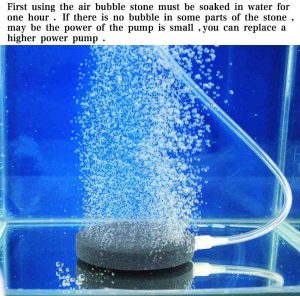 The Wenshall Small Round Air Stones are a great "budget" option. They come with four (4) in a pack and come with a 3-way splitter so you can use two at a time. We recommend you use two now and save two for later after the first set gets dirty or if they begin to malfunction. We recommend these because they are simple, they are not too strong (bubbles are small, gentle, and consistent), and they are inexpensive.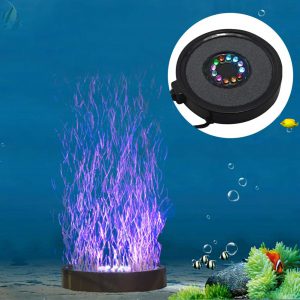 If you want to bring a little "bling" to your aquarium then we recommend getting the NICREW Multi-Colored LED Aquarium Air Stone Disk. It comes with a built-in LED light in the center of the air stone. When the light hits the bubbles it creates an amazing effect that even your fish will appreciate! Think the "volcano" from Finding Nemo! LED is multi-colored and the air stone comes with a suction cup to anchor it to the bottom of the aquarium.
If you are looking for a "top of the line" airstone then we recommend the hygger Aquarium Air Stone Kit. It comes in 2 inch or 4 inch, and each air stone kit comes with a control valve, check valve, tee connector, reducer, and 2 suction cups. This kit will ensure that you will be able to get the bubbles exactly how you want them and where you want the bubbler. It comes highly rated and we are confident that you would be happy with the product.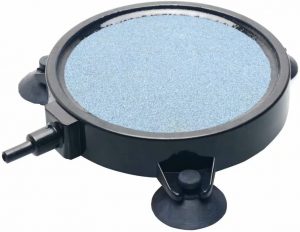 Pawfly 4-Inch Air Stone Disc Bubble Diffuser ASD-100 is an excellent item for medium to large aquarium bubbler setups. It is a 4-inch wide and 1-inch tall disc with a 12L/min jetting volume. The device improves the oxygen levels and circulation of a fish tank. You may use it in aquariums with a length between 15.7 and 39.4 inches. The air stone is recommended for aquarium bubbler setups with pumps that are rated from 3.2 LPM to 25 LPM. It will fit tubes with an inner diameter of 0.16 inches or 4 mm. There are three suction cups provided for holding the air stone in place. A smaller, 2-inch variant of Pawfly Air Stone is also available for compact aquarium bubbler setups.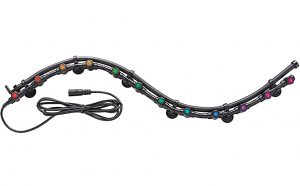 If you are looking to add some color and flair to your aquarium bubbler setup, consider the Aqueon Multi-Color Flexible LED Bubble Wand. It is not an airstone but a 14-inch long bubble wand. Instead of creating bubbles in a small area, it can do the same throughout the aquarium. There are integrated LEDs that make the tank colorful. The wand is flexible and can be bent for easy installation. It comes with suction cups for securing it to the tank. Most hobbyists fill find it attractive. A 21-inch long variant of the Aqueon Multi-Color Flexible LED Bubble Wand is also available and will suit large aquarium bubbler setups.
2. Aquarium Bubbler Setup Air Pump
The second requirement for an aquarium bubbler setup is an air pump. An airstone can create bubbles, but it requires an air pump to supply air for the same. Some bubbler packages may include an air pump, although others may require you to purchase one separately. If you already have an air pump installed in your fish tank, then you don't need to buy it.
Here are some air pumps that we recommend: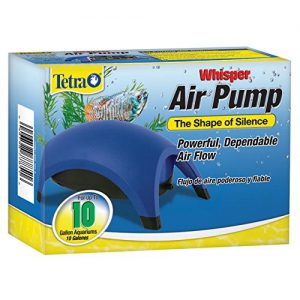 The Tetra Whisper Air Pump is a classic air pump. Many people purchase this pump and it does not disappoint. It is budget friendly and comes in many sizes so chances are you will find the exact one needed for your aquarium whatever size it is. The only comments we hear from people who purchase the Tetra Whisper Air Pump is that it creates a lot of air, but it is sometimes noisy and does not come with air tubing or other accessories such as control valves or "T" fittings.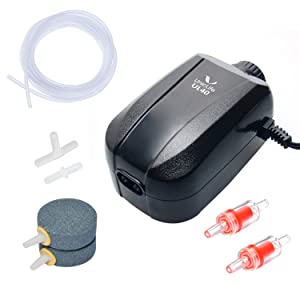 The Uniclife Aquarium Air Pump is another great option. It comes highly rated and is quieter than the Tetra Air Pump. In addition, if you are looking for a complete kit including airstones this is a perfect purchase for you because it comes with airstones, "T" fittings, check valves, and air tubing – everything you need for a complete aquarium bubbler setup!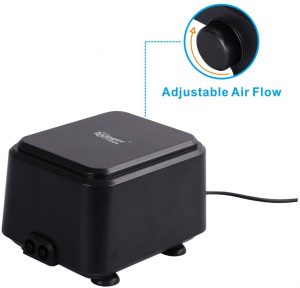 If you are a looking for a quiet pump then the hygger Aquarium Air Pump is a good choice for you. It it is specified to stay under 30 db even when it is at full strength. It also comes with an adjustable dial so you can set the air flow to exactly what you are looking for on your aquarium setup.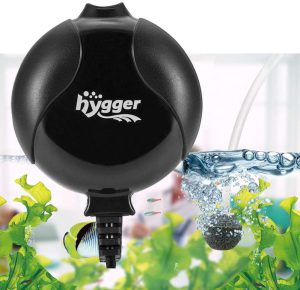 hygger Quiet Mini Air Pump HG-811 is an excellent option for small aquarium bubbler setups. It is a unique device that employs a thin piezoelectric ceramic plate instead of a motor. The operation of the pump is quieter as compared to motor-based models from hygger. You can use it in fish tanks with capacities ranging from 1 to 15 gallons. As it consumes only 1.5 watts, it is quite efficient while providing a flow rate of 420ml/minute or approximately 6.6 GPH. Additionally, you get a power adapter, a 0.9-inch air stone, and a 3.6 ft long air tube in the package for completing your aquarium bubbler setup. The hygger Quiet Mini Air Pump HG-811 comes in black or white colors.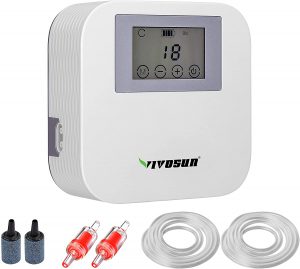 VIVOSUN 285 GPH Battery Air Pump AC/DC is a well-recommended option for aquarium bubbler setups. It is a unique device that can run on AC as well as DC through a 5V, 4,400mAh battery. The device is suitable for tanks when a power source is unavailable due to an outage or other factors. There are two outlets on the air pump, each of which can provide a flow rate of 40GPH, with a total maximum flow rate of 80 GPH. An LCD screen on the device provides information and allows you to choose from 18 adjustable pressure levels as required. The package includes a pair of air stones and tubing to get you started on your aquarium bubbler setup.
3. Aquarium Bubbler Setup Accessories
You will also need a few accessories for an aquarium bubbler setup. These include airline tubing, one-way air valves, and regular air valves. Most aquarium bubbler kits may come with these accessories. If yours does not, then you will have to purchase these accessories separately.
Here are some of our recommended accessory kits for an aquarium bubbler setup if the air pump or air stone does not already include it: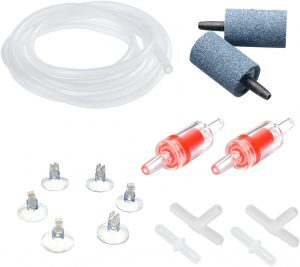 If your air pump or air stone doesn't come with all of the airline tubing or if you need to replace a few parts then Pawfly has a great Aquarium Air Pump Accessories Kit available that comes with basically everything you need to complete a setup. It includes airline tubing, check valves, "T" and union fittings, suction cups, and even a couple of small airstones.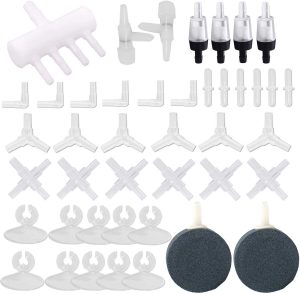 The Y-Axis 49 Pcs Aquarium Air Pump Accessories set is an excellent package for aquarium bubbler setups. It comes with most of the accessories required for improving the oxygen levels of your fish tank. You get one 4-way airline splitter, two air control valves and four non-return check valves for air pump safety, ten suction cups for securing the aquarium bubbler setup, and thirty airline connectors of different shapes that include cross, Y, T, L, and I-shaped connectors. The package also includes a pair of air stones, eliminating the need to purchase them separately. Only an air pump and tubing may be required in addition to this accessory kit.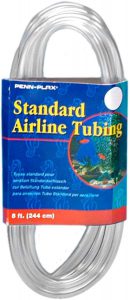 Penn-Plax Airline Tubing for Aquariums is a suitable choice for buyers who need tubing for their aquarium bubbler setup. It is made from durable and flexible plastic and won't kink over time. The tubing has a standard 3/16 inch diameter and can be used for both freshwater and saltwater aquariums. Its clear shape makes it suitable for most setups, while the non-toxic materials ensure the safety of fishes. You can use the tubing for your aquarium bubbler setup without any issues.
Aquarium Bubbler Setup Process
Once you have all the required components at hand, you can begin setting up the bubbler.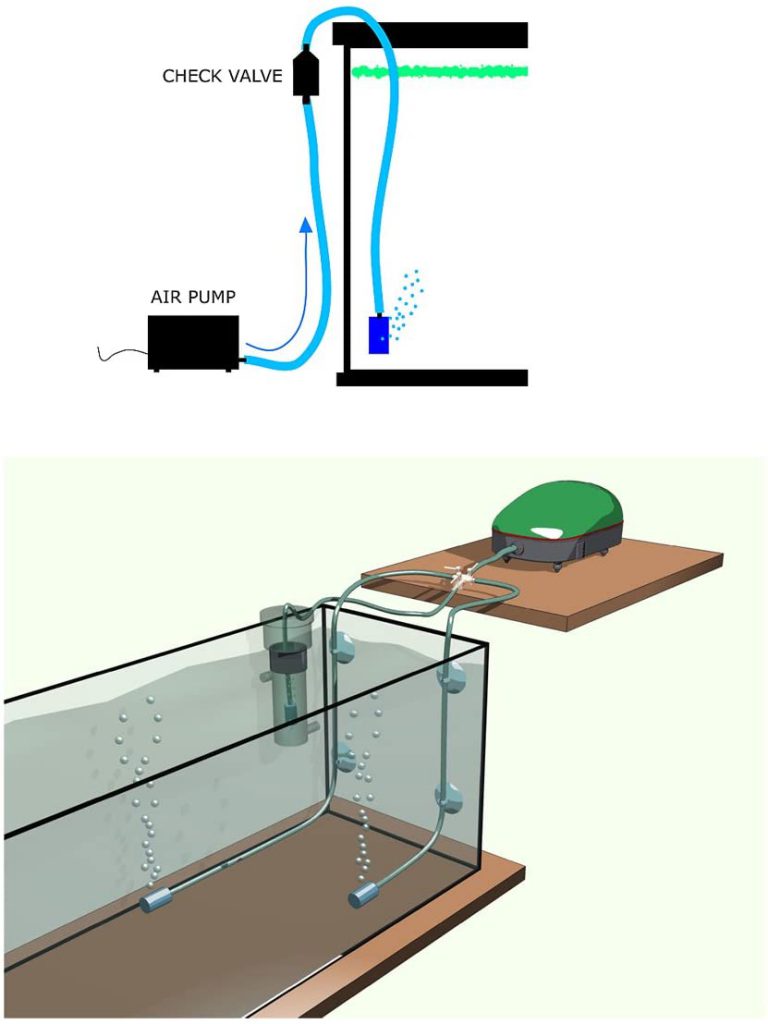 How do I install an aquarium bubbler Setup?
The first step is to install the air pump. It can be placed outside the aquarium, under its stand, or in a cabinet. While placing it, make sure that there is adequate space for wires and tubing as well as enough air circulation around the pump. After placing the air pump, attach airline tubing to its outflow valve.
Next, attach the regular air valve to the tubing coming from the pump. It will allow you to regulate the amount of air that flows into the airstone. Use a sealing mechanism to prevent any leakage of air from the joint between the valve and tubing.
Attach some more tubing to the free end of the regular air valve. Then install the one-way valve into the tubing. This valve is designed to prevent the air or water from flowing into the air pump in case of power or equipment failure. Make sure that the orientation of the valve is towards the airstone. Seal the joint to avert any leakage. Then attach more tubing to the other end of the one-way valve.
One important note is that you really have to have a one-way check valve installed if you place your air pump under the top of your aquarium water. If you place the air pump under the top of the aquarium and there is no check valve you will risk allowing the water to "siphon" out of the aquarium upon a pump malfunction and it will cause a flood. If you do not have a check valve or just don't feel like taking the risk then install the air pump above the level of the aquarium water.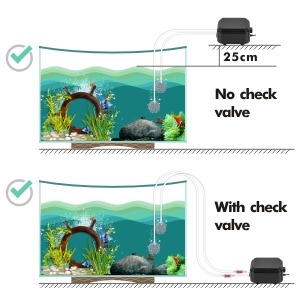 Now, we need to attach the airstone to the tubing coming from the one-way valve. Again, use a secure sealing method for preventing the air from leaking. Some airstones may have to be soaked for up to thirty minutes before they can be attached to the tubing. Then place the bubbler stone at the desired position in the tank. Most airstones are heavy and will settle down on the bed of the aquarium. A few of them, especially tube-shaped ones, may come with suction cups for installation. Place the airstone at such a position so that it improves the aesthetics of the tank without obstructing the view. If your airstone has wires for LED lights, then connect the same as well.
After all the connections have been made, switch on the air pump and adjust the airflow using the regular valve as desired. Your aquarium bubbler setup is now complete!