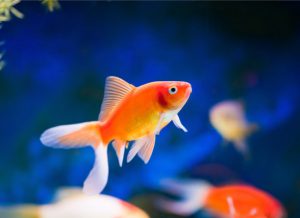 Adding an aquarium to your home or office can make the place visually acute. The warmth brought by it cannot be matched with any of the artificial interior decorations. Regardless of the fact if you want to keep an aquarium as a decorative element or a pet store, they can become cruel when you only purchase the fish and leave them in the aquarium without considering its size, shape, maintenance and feeding schedule.
Although there are a variety of sizes of aquariums, 55-gallon aquariums are the most popular. They are a great option for someone who wants to get creative as it offers plenty of space to accommodate some larger fish. Its larger size makes it painless to keep the water clean, so beginners will find it convenient than they would with smaller sized aquariums. Freshwater fish, saltwater fish or even paludarium can be placed in them.
Big tanks such cost more as compared to smaller tanks. 55-gallon aquariums even weigh more. It will weigh around 600 pounds when it is filled with water. This weight can increase further once you add fish and decorations.
With an enormous variety of 55-gallon aquariums on the market, we can understand how hard it can be to make the right decision on which one to trust. Therefore, here is a list of some of the best 55-gallon aquariums that come with ideal functionality.
Aqua Culture Aquarium Starter Kit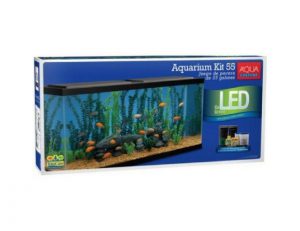 Aqua Culture Aquarium Starter Kit, 55 Gallon is another option in the list of best 55-gallon aquariums. It is a great option to add a touch of the tropical environment to your living spaces. This kit is an ideal way for brightening larger spaces where it can be placed on an appropriately sized aquarium stand. It is constructed from a quality glass at a reasonable price. Furthermore, as a beginner, you won't be required to buy additional equipment and accessories as it includes a powerful yet silent internal filtration system that sustains good health of your fish, and LED lights that are built into its low profile hood to create daylight glow. Additionally, you will also get fish food samples, water care samples along with a fish care guide that will help you in setting it up and maintaining a thriving fish tank.
Full Acrylic 360 Cylinder Aquarium Tank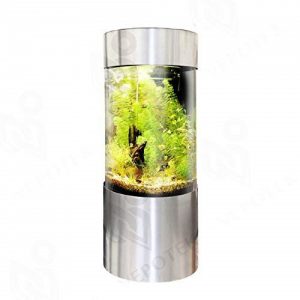 Full Acrylic 360 Cylinder Aquarium Tank 55 Gallons Tall Base Version is constructed from acrylic of high strength which is 50 percent lighter and 8 times stronger than glass. It comes with a canopy and a custom stand. Its striking feature is its shape. Normally, we often come across tanks with rectangular or square shapes but this cylindrical shaped aquarium is something unique and unheard of before. With the dimensions of 20 x 20x 67 inches, this 55-gallon aquarium brings winsomeness to your home when placed in the right position. Weighing 75 pounds, it includes filtration system, bio ball, air pump, and a compact light fixture. Lastly, what makes this aquarium lavish is its stainless steel finish.
Tetra 55 Gallon Aquarium Kit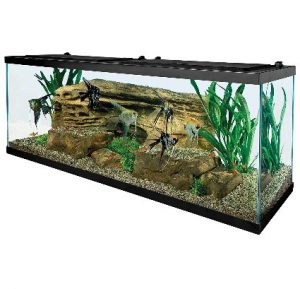 Tetra 55 Gallon Aquarium Kit is one of the best glass aquariums for beginners due to its reasonable price and quality components. It is all in one kit for starting a tropical environment in your home or office. It includes important accessories such as hinged hoods with LED lighting, heater, filter, thermometer, fish food, fish net, few decorations, water conditioner, and a guide. Measuring 48 x 13 x 20 inches in size, this tank is highly durable and strong that is covered perfectly by two 24" hoods that provide it a sleek appearance. Moreover, the hood consists of pre-drilled hoods for placing equipment. The LED lights attached under the hood offer a bright daylight effect to your tank. It includes the Tetra Whisper 60 power filter which has a maximum flow rate of 330 GPH. Overall, Tetra 55 Gallon Aquarium Kit is an ideal option to upgrade your environment.
Aquarium Masters 55 Gallon Show Aquarium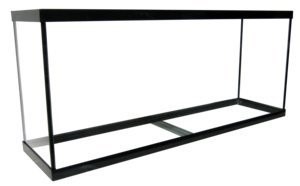 Aquarium Masters 55 Gallon Show Aquarium is another great choice for establishing a large and captivating aquarium display. It is a pleasant looking classically-designed glass aquarium which ensures its easy cleaning. Furthermore, the structure allows accommodating both freshwater and saltwater species alike. You will need a suitable stand to place its four-foot-long frame. However, once it is set up, you will be satisfied with the plenty of space it offers for plants, fish and decorations. This 55-gallon aquarium measures 48 x 13 x 20 inches and weighs 66 pounds. With its diamond polished edges and distortion-free glass, it is an ideal size for novice aquarists that provides less chance of making an error in the aquarium's ecosystem.
Aquarium Tank, Glass, 55 Gallon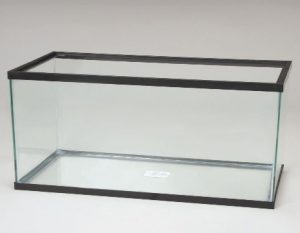 Aquarium Tank, Glass, 55 Gallon is a simple yet durable fish tank. It can be one of your best buys as it is not only simple but also impact-resistant, leak-proof, stable and non-reactive to seawater. Its top frame is a recessed cover because all the facades are made from transparent triple-strength glass that is welded with silicone rubber at the bottom and corner sides. Furthermore, this 55-gallon aquarium measures around 48 x 13 x 20 inches. Based on its size, this tank can accommodate fish of 55-inches size. Additionally, you can always opt for a replacement, credit or a refund if you are not satisfied with the product.
Midwest Tropical Fountain Octagon Aquarium Kit
Midwest Tropical Fountain Octagon Aquarium Kit 55 Gallon Tower acts as a magic wand that represents underwater beauty and brings it in front of our eyes. This Octagon AquaTower does not take much place in your room. Its bottom is made from a seamless acrylic and can be used with freshwater. Furthermore, being true to its material, the glass is stronger, safer, rich in texture, and 40% clearer. The tank is 77 x 21 x 21 inches in dimension and weighs only 62lbs which is relatively light. This 55-gallon aquarium comes with a self-contained cabin with concealed filter, lighting fixture, gravel, pump, and even plants. It occupies minimal floor area and is 80" high altogether. In case, if you are planning to buy an aquarium and place it in the corner of your room then this tank is the right option for you as it enhances the beauty of your setting, especially at night time.