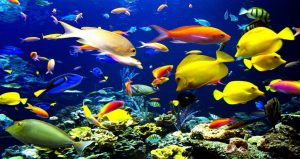 An aquarium stand is a handy piece of furniture that is used to place your aquarium at home or any other place you desire. The features of an aquarium must be taken into consideration when looking for an appropriate stand. A larger and heavier aquarium requires to be supported by a stand that is strong and sturdy. The strength of the stand should comply with the gallon capacity of the aquarium. Additionally, some stands are specifically designed to accommodate bow-shaped aquariums and some others that are made to uphold rectangular-shaped aquariums.
This makes it important to choose a stand that is well suited to the aquarium's size, shape and weight as investing in an aquarium stand that is unfit for your aquarium may result in degrading and endangering your aquarium inhabitants. To help you in choosing the best possible option, here is a list of some of the best aquarium stands. Take a look.
Ameriwood Aquarium Stand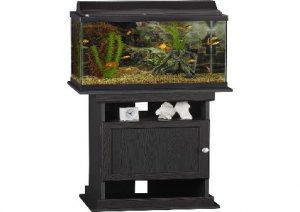 Ameriwood Aquarium Stand features a unique patent design that can switch between a 10-gallon stand and a 20-gallon stand depending on your aquarium size. You can just pick which of these best support your requirements and flip the stand to the right base. The stand supports 10 gallons i.e. up to 120 lbs. or 20 gallons i.e. up to 240 lbs. This unit is not only versatile but also enables you to display your home décor and hide away your tank accessories. Its top and base are completed with a tiered look bringing it a decorative accent irrespective of which way you flip the stand. Moreover, Ameriwood Aquarium stand comes with a generously large storage cabinet that can store all your fish tank or terrarium supplies. The shelf space on top and bottom allows you to place decoration to highlight your aquatic hobby. Overall, this stand is one of the perfect solutions to fit your 10/20 gallon aquarium.
Imagitarium Brooklyn Metal Tank Stand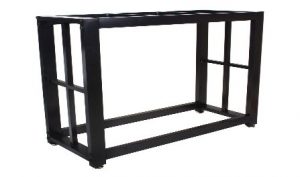 Imagitarium Brooklyn Metal Tank Stand is an affordable and ideal choice for 29-gallon aquariums. It is easy to assemble aquarium stand that comes with adjustable feet to make leveling on uneven floors. It features a modern and sleek design with a black finish that can be used for many years to come. Moreover, it looks great with any aquarium and terrarium while simultaneously adding an aesthetic touch to your tank décor. Imagitarium Brooklyn Metal Tank Stand has a sturdy construction made from built-to-last solid steel. Its only downfall is that it does not contain any shelves for storage. All in all, this aquarium stand is a great option for you is you are fine with not getting integrated storage. It is an inexpensive option that looks practically modern and can go with just about anything.
Aquatic Fundamentals 55 Gallon Upright Aquarium Stand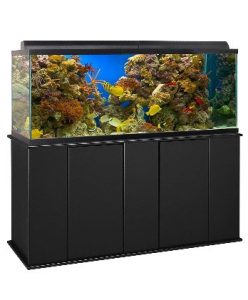 Aquatic Fundamentals 55 Gallon Upright Aquarium Stand is a durable stand for showcasing rectangular aquariums. It measures 49.4 x 13.1 x 28.2 inches that are ideal for placing 55-gallon aquarium dimensions. It weighs 74.6 lbs. and can be used for displaying acrylic tanks as well. Moreover, this cabinet-style stand offers full bottom support along with storage space. This aquarium stand is easy to assemble and comes with clear instructions. It is made from dense fiberboard along with a moisture-resistant powder coat finish. Additionally, it features metal-to-metal locking cam assembly and its double front doors offer enough storage for pumps, hoses, and other accessories. All in all, this aquarium comes with a contemporary style that looks great and classy. However, it does not include any adjustable feet for leveling on uneven surfaces.
Coralife Designer Biocube Stand 29/32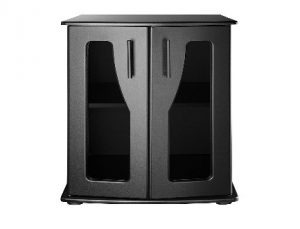 Coralife Designer Biocube Stand is specifically designed to uphold aquariums of 29-32 gallons capacity. It is 21.5 x 20.5 x 29.5 inches in size. This stand comes with a shelf for storing equipment and can be used to cut-out holes in the back for inserting electrical cords through them. Moreover, it is easy to set up and is constructed from water-resistant materials for enhancing your personalized aquatic habitat, making it fit to be used for both freshwater and saltwater aquariums. This Biocube stand is compatible with Biocube aquariums that feature spacious shelving, acrylic tinted panels, rear electrical holes with sturdy elevated feet and, black handles. 
Aqueon Forge Aquarium Stand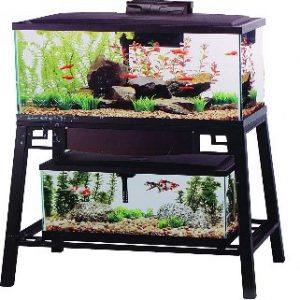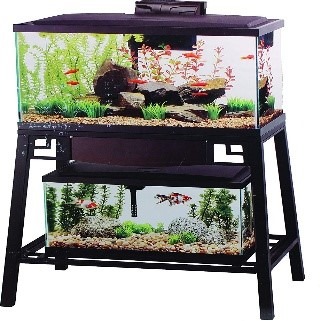 Aqueon Forge Aquarium Stand offers the flexibility that aquatic hobbyists desire. It is designed with 2 shelves one on the top and the other on the lower portion, allowing you to showcase two aquariums. Its top shelf can support 20 gallons and the lower one can be used for 10-gallon capacity aquarium. This sturdy stand is easy to assemble that can be done painlessly with the use of manufacturers manual. In case you have only one aquarium, then you can use the other shelf to display your home décor. Furthermore, the center wood panel flips in an upward direction providing easy access to the bottom shelf. Aqueon Forge Aquarium Stand features steel construction which offers greater durability along with rust-resistant powder-coat finish.
Ameriwood Home Laguna Tide Aquarium Stand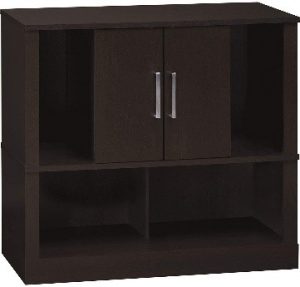 Ameriwood Home Laguna Tide Aquarium Stand is a budget-friendly stand for your aquarium. It comes with two doors that serve the purpose of a big shelf where fish related stuff can be stored. In addition to this, it comes with three open compartments as well that can be used for storing other items that you would like to showcase. Nevertheless, its assembly instructions should be strictly followed to ensure that the stand is even and can offer the much-needed support to the tank otherwise, it won't be able to serve the purpose nicely. This aquarium stand is capable of holding aquarium sizes of up to 37 gallons. Ameriwood Home Laguna Tide Aquarium Stand is a good choice for those of you who are looking for a less expensive aquarium stand which comes with ample storage spaces. It is reliable for being a multifunctional aquarium stand. However, it has a few downfalls such as the package may not include some nuts/hardware/bolts at times and the lamination chips easily.