Fishkeeping is a hobby adopted by millions of people around the world. For a long time, a simple bowl was the only small container available to house a fish. Fish tank supply companies spotted a niche and began to mass-produce little tanks that could be easily accommodated in your homes like on a desktop. These mini tanks come in 1, 2, 3 and 5 gallon sizes. They are mostly acrylic and come packed with all the necessary equipment for their set up.
A three gallon fish tank is one of the smallest sizes available. Therefore it is inexpensive and you can place it anywhere you like. Because these fish can survive in a three gallon tank does not mean that their care is easy. You also need to select the right fish wisely for this size of the tank as it is easy to overstock them because they are unable to hold much fish. There are many fish species available in the world but only a small variety can be kept in a 3 gallon tank. To avoid your fish to become stressed or diseased, you should choose small fish that can be accommodated easily in it. Here is a list of fish that are best for a 3 gallon tank:
Bettas   
Male or female Bettas are the most popular and common species in fishkeeping kept in a 3 gallon tank. Although they shouldn't be kept together. They are prized for their hardy nature and spectacular colors. Bettas are the best three gallon fish tank fish. They have the potential to survive in small tanks and are a great choice for beginners as they are relatively flexible with water parameters.
BettaTank 3-Gallon Fish Bowl with LED Lighting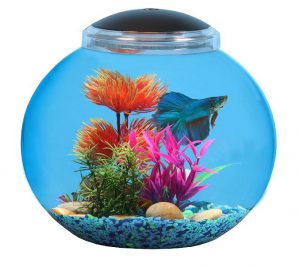 Betta Tank three gallon fish bowl is a trendy small tank great for beginners, children or those who want something small and decorative for their homes. This is designed for easy setup and maintenance.
Guppies
Guppies particularly males are popular fish species for beginners with small sized tanks. They have colorful and eye-catching tails and are great fun to watch. They brighten up fish tanks due to their beautiful colors. They are small curious fish that do well in a 3 gallon tank, provided the water is kept clean and is warm enough. 
Tetras
Tetras are one of the most exemplary aquarium species. Neon tetras are schooling fish which means they are required to be kept in numbers for their good health and happiness. For this purpose, you can keep 4-5 small Neon Tetras in a three gallon fish tank. 
Otocinclus
Otocinclus are small bottom dweller fish species that help in cleaning your fish tank by eating algae and food decays from surfaces. These can be easily housed in a 3 gallon fish tanks.
Zebra Danios        
These are hardy aquarium species that are a great choice for beginners with small fish tanks. 
Some other recommended fish for a 3 gallon tank is:
Salt & Pepper Cory
White Cloud Minnows
5-8 groups of Dwarf Shrimp, Cherry shrimp or small snails like Ramshorn Snails can also be kept in such tanks. Ideally, all these fish species need larger tanks to grow healthily. So they should be transferred as they mature.