Betta fish are one of the most sought-after fish in the world. Whether it is due to their rich appearance or active behavior, these little beauties of nature never fail to produce a good impact. According to the popular belief, it is said that they are easy to take care of. However, this is not the truth because, in reality, they require a lot of care.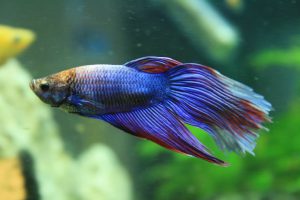 Clean and healthy water is critical for a good fish tank and betta fish care. If regular attention is given in looking after your pet fish's water, a lot of problems can be prevented. Betta fish have a higher tolerance for bad water quality and don't as such require water filters because they have the potential to absorb oxygen from the air and also through their gills when they are in the water. However, the betta fish's bowl still requires regular water changing and cleaning to maintain its health. It can be seen that with proper care, your betta fish can survive for 2-4 years or sometimes even longer than that. 
Here are some of the things that need to be kept in mind while taking care of the betta fish water.
Use Conditioned Tap Water for your Betta Fish:
Tap water is an easy and most popular choice for betta fish water. Water available from your tap has pH ranging from 6.5-7.5 and betta fish requires a neutral pH of around 7 for thriving in water. This tap water also contains nutrients and trace elements that are required for fish's health. Tap water can be used for your betta fish if it is conditioned properly that has chloramine and chlorine removed from it because these chemical compounds are hazardous for your fish. Distilled water may also seem an easy solution to use as betta fish water but you should avoid using it because it does not contain any minerals which are required for their health. 
Most of the water conditioners for aquarium are in liquid form that is available in the market and just a few drops of it will instantly do the trick and make tap water safe for your betta fish.
Water Temperature:             
Betta fish are tropical fish, natives of Southeast Asia that live under the sun in rice paddies. They are best in health in similar water temperatures. The ideal water temperature for them ranges from 76-80 degrees Fahrenheit. The temperature you select should remain as consistent as possible. This can be attained by installing a heater in your betta fish tank and regularly checking the temperature with a thermometer. Remember sudden changes in temperature can risk your betta's health by putting them into shock so when adding new water to the betta tank, you should ensure that both the waters, the new water and the already present water in which the betta is swimming, are at the same temperatures which can be easily done by using an invaluable thermometer. Avoid temperature fluctuations and sunny windows when placing your betta fish tank.
Water Renewals:
Fish do all of their living in the surrounding water. This means that fish waste and food leftovers will continuously buildup, producing high levels of ammonia, nitrate, and nitrite, creating an unhealthy environment. All of this can be avoided by changing 15-20% water of betta fish tank weekly. You cannot change all your aquarium water at once because there are beneficial bacteria present in it that maintains optimal water levels for longer. So you should keep your betta's environment pollution-free with at least one partial water change in a week. Sudden large water changes in the fish environment can stress out your aquatic pet.