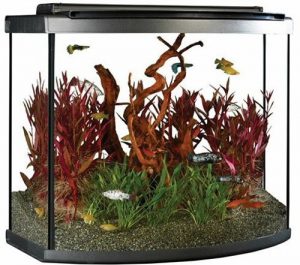 What Bow Front Aquarium Sizes are Available?
16 Gallons: 20″ x 13″ x 21″
26 Gallons: 24″ x 15″ x 21″
28 Gallons: 24″ x 16″ x 18″
36 Gallons: 30″ x 15″ x 21″
46 Gallons: 36″ x 15″ x 20″
72 Gallons: 48″ x 18″ x 22″
90 Gallons: 48″ x 18″ x 29″
155 Gallons: 72″x 24″ x 24″
175 Gallons: 72″ x 24″ x 29″
We are all aware of the traditional flat fronted aquariums that have a basic square or rectangular shape. But since the technology has progressed by leaps and bounds, bow front aquariums are a new addition to the world of fish hobbyists. These aquariums have a curved front shape and tempered front glass panel that offers a bulging effect to the frontage along with a magnificent viewing area. This creates a unique and individualized look that can be a good choice for keeping your pet fish.
If you are in a rush here are our favorite bow front aquarium sizes:
Bow Front Aquarium Sizes – Growing Popularity
Bow front aquariums are becoming in demand amongst aquarists. They offer a gripping and special design to any room and have proved to be a great space saver as compared to their counterparts which are not corner tanks. The curved or bulging front allows you to feel that there is more water, giving it more depth and space for inhabiting your aquatic friends and thriving of your plants. Hence, it can be a good choice for those who have restricted space for placing their aquariums. These bow front aquarium provide a pretty impressive view of your aquatic pets and marine plants.
Bow Front Aquarium Sizes – Options
These aquariums are made of glass or acrylic and are available in different gallon sizes as well. The smallest of this kind is less than a gallon sized aquarium. More standard units of bow front aquarium are available in 16, 26,36,46,54 and 72 gallon sizes. However, you can also probably order bow front aquarium of any size, if you need a custom aquarium. There is surely going to be a perfect size available for you from 6-200 plus gallon aquariums.
BOWFRONT 
FISH TANKS
VOLUME
DIMENSIONS
Gallons
Liters
Inches
Centimeters
16
61
20 x 13 x 21
 51 x 33 x 53
26
98
24 x 15 x 21
61 x 38 x 53
28
106
24 x 16 x 18
61 x 41 x 46
36
136
30 x 15 x 21
76 x 38 x 53
46
174
36 x 15 x 20
91 x 38 x 51
72
273
48 x 18 x 22
122 x 46 x 56
90
341
48 x 18 x 29
122 x 46 x 74
155
587
72 x 24 x 24
183 x 61 x 61
175
662
72 x 24 x 29
183 x 61 x 74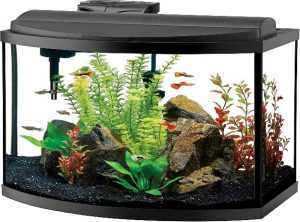 Fluval Deluxe Vista LED bow front aquarium kit is the next step for fish hobbyists. It is one of the best choice for beginners. It is a 16 gallon sized bow front aquarium. The dimension of this aquarium is 20.25 x 12.875 x 20.5 inches. This kit contains all the necessary equipment required to begin with your new aquarium. Apart from bow front aquarium, it includes a deluxe LED full hood, a quiet flow power filter, an LED lamp, filter cartridge, thermometer, set up guide, submersible preset heater, and fish food and water conditioner sample. You can place plants and decorations in the aquarium after rinsing properly first. After installing all the equipment in the aquarium wait for 24 hours before adding the fish.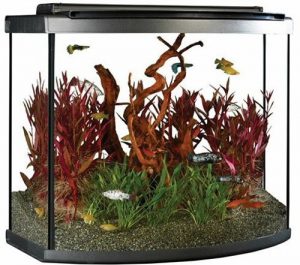 Fluval 26 Gallon bow front aquarium is made up of glass and has a dimension of 24 x 14 x 20 inches. It is a 26 gallon size tank. It is an easy to setup tank that means beginners and experts both can use it.  The kit comes with all the premium equipment that is required for the setup. It consists of high output LED light that can disperse 630 lumens that is excellent for some low level light plants, a C3 power filter that is quiet, easy and sturdy to use, a submersible shock-resistant heater to regulate the temperature according to the aquarium needs, thermometer, tropical fish flakes, fishnet, water conditioner and, a set up guide. This aquarium is undemanding and affordable after set up.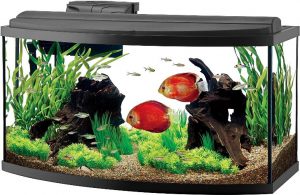 The Aqueon Deluxe LED bow front aquarium also comes in 36 gallon size. It is made up of glass with a convexed front glass panel. The aquarium dimension is 30.25 x 15.5 x 20.875 inches. The kit consists of a LED hood of low profile that is perfect for the plants in the aquarium, a quiet flow 30 power filter that dampens the noise to produce a peaceful environment, a submersible preset heater that keeps right temperature for your fish, a thermometer, fishnet, filter cartridge, water conditioner and premium fish food sample, and a set up guide. Basically, the kit includes all the vital things needed for the startup of a bow front aquarium.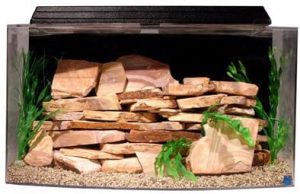 The Seaclear 46 gallon bowfront aquarium is another great option if you are looking for a bowfront aquarium. Our readers who own this aquarium cite it's great price, high quality acrylic construction, and light weight as reasons to purchase this aquarium. Some didn't like the stock light that came with it, but suggest that you can easily replace the fixture with another light of your choice.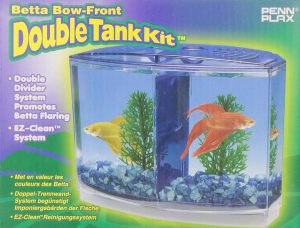 If you are looking for a small-sized bow-front aquarium, then the Penn-Plax Twin Betta Bow-Front Kit will be perfect for you. It is designed to house a couple of betta fish. There is a partition in the middle to create separate compartments for the fishes. The bow-front aquarium measures 3.85-inches (D) x 7.75-inches (W) x 6.00-inches (H) and holds almost three liters of water. It is constructed from acrylic and can accommodate two plants and 4oz. of gravel. Twin Betta Bow-Front Kit is an excellent small-sized option for individuals who are new to the hobby. Penn-Plax includes an EZ Clean System in the kit for quickly getting you started.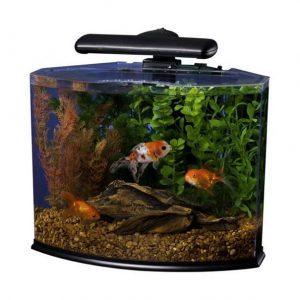 Tetra Crescent Aquarium Kit is a slightly bigger option when it comes to bow-front aquarium sizes. Its curved-front provides a crystal clear view of your pet's aquatic abode. The tank measures 15-inches x 9-inches x 11-inches and has a capacity of 5 gallons (almost 19 liters). It is suitable for a single goldfish or up to three tropical fishes. A low-profile cover with integrated white LEDs is provided for it. Tetra Whisper Internal Power Filter is also included in the package. Tetra Crescent Aquarium Kit is the right-sized bow-front aquarium for individuals who want to take up freshwater fishkeeping as a hobby.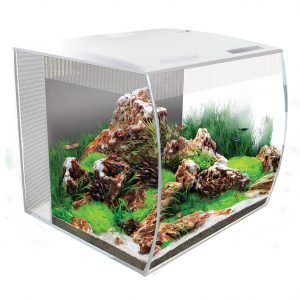 When it comes to bow-front aquarium sizes, the Fluval FLEX 15 Gal. Glass Aquarium Kit is a mid-sized option. It features a curved front that looks spectacular. The tank has a capacity of 15 gallons and will be suitable for quite a few freshwater fish species. It comes with an integrated and powerful multi-stage filtration system as well as fully adjustable white and RGB LEDs. A FLEXPad remote is included to control the lights and change their effects easily. The Fluval FLEX 15-Gallon BowFront Glass Aquarium Kit is manufactured in white and black colors. 9-gallon and 23-gallon are the other bow-front aquarium sizes available in the Fluval FLEX Series. There is also a 13.5-gallon Fluval Sea Evo V Saltwater Aquarium Kit whose tank has a peninsula design and is suitable for marine fish species.
Aqueon MiniBow Aquarium LED Starter Kit is another compact bow-front aquarium that will suit rooms with limited spaces. The tank in the package measures 14.50-inches (L) x 10.00-inches (W) x 13.50-inches (H) and has a capacity of 5 gallons. Aqueon QuietFlow filtration system is built inside it, and there is no need to get an external filter separately. Additionally, an elevated base adds to the aesthetic appeal of the aquarium. Its hood has a low-profile design and features integrated energy-saving LEDs for illuminating the aquarium.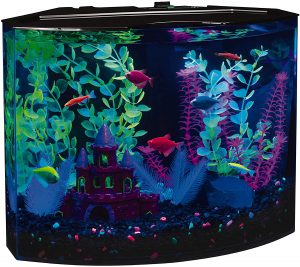 Hobbyists who prefer small bow-front aquarium sizes can also consider the GloFish Aquarium Kit Fish Tank. It comes with a 3-gallon crescent-shaped tank with a bow front. A medium-sized Tetra Whisper Bio-Bag Filter Cartridge is included in the package for internal filtration. There is a black canopy with integrated blue LED lights to make fluorescent fishes glow. It also has a feeding hole for added convenience. GloFish Aquarium Kit Fish Tank is a compact product among bow-front aquarium sizes. Hobbyists who want to keep fishes that glow will find it suitable.