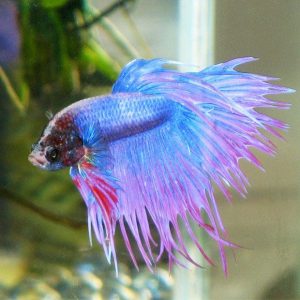 Most of the aquarium kits don't include a heater as some fish don't need one. However, if you have Betta fish, then the heater is required because Bettas are habituated to a tropical environment that has warmer temperatures. Without a heater, your Betta tank water gets closely influenced by the surrounding air temperature. And unless your house is kept at 78-80 degrees, you need a Betta tank heater to keep your Betta active and healthy.
If you wish to have an energetic, healthy and long-living Betta, you require a flawlessly working Betta fish tank. By purchasing a good aquarium heater, you get what you pay for i.e. they heat your tank effectively and maintain a consistent temperature that is vital for your Betta's health.
Here is a list of some of the best heaters which are affordable and create the optimal tropical environment to have happy Betta.
Fluval Marina Submersible Heater for Aquarium, Mini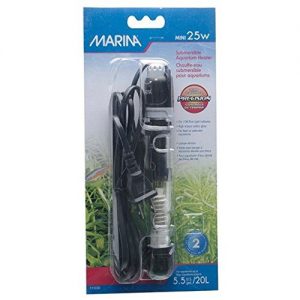 This Fluval Marina Submersible Heater for Aquarium is a small yet powerful heating provider for both freshwater and saltwater aquariums. This heater comes in a 25 watt model for up to 5.5 gallons and a 50 watt model for 10 gallons tanks. It is an inexpensive submersible heater that only at 6 inches length can find a home in one of the smallest and oddly shaped Betta fish tanks. It includes bracket and suction cups which makes installing it a breeze and can be easily adjusted to heat the tank to your desired temperature. Moreover, it comes with an impact-resistant glass design along with a waterproof sealing. Fluval Marina Submersible Mini Heater is very accurate which gives only very little temperature fluctuation. It is a great and affordable choice for fish hobbyists looking for a good heater for betta tanks.
FREESEA Aquarium Fish Tank Submersible Heater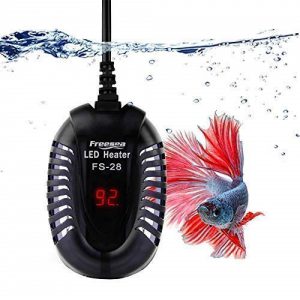 FREESEA Aquarium Fish Tank Submersible Heater with LED Temperature Display is another top choice when it comes to buying a good betta tank heater. It comes in different power ratings and is available in 50 watts, 75 watts, 100 watts and 200-watt models which are according to the size of betta tanks. This heater offers a good display that offers accurate temperature reading which can be adjusted to where it is warm enough for your betta tank. There is no need to buy another thermometer. Furthermore, it features a constant temperature function that turns off the heater when it reaches a predefined temperature. This helps in preventing the water from overheating making it safe for the Betta fish. Additionally, it comes with easy to use controls that makes it another great choice when considering heater for your betta tank. However, it has only one downfall i.e. its cord is not long enough so you need to put the tank near the outlet.
Tetra HT Submersible Aquarium Heater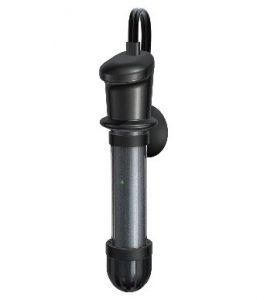 Tetra HT Submersible Aquarium Heater is one of the top picks when considering betta tank heaters. It features an indicator light that turns on when the heater is on. The light is red during heating and green when the suitable temperature has been achieved. This heater comes with a built-in electronic thermostat that maintains the temperature of water at 78 degrees. Some people don't prefer it for not being adjustable but others like it for this particular reason. You can just simply put it in tank water, turn it on and start using it. Tetra HT Submersible Aquarium Heater works ideally for aquariums between 2-10 gallons size. It can be put both horizontally and vertically in an aquarium. Moreover, it has easy installation and since it has a reasonably small size, it does not take much space in your Betta fish tank. It is a fairly simple and basic heater that comes with an internal thermometer.
Eheim Jagger Aquarium Thermostat Heater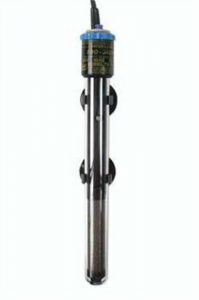 Eheim Jagger Aquarium Thermostat Heater is specifically designed to keep your fish tank simple and effortless. Its most notable feature is its capability of colder temperatures that can go down to 65 degrees, perfect for those who live in hot areas and the goal of their heater is primarily to keep the temperature of water consistent. It comes in a variety of different power ratings with the 300-watt version being rated for up to 100 gallons tanks. At 20 inches this heater requires a tank that is shaped in a way that allows it to be fully submerged. Eheim also offers smaller models of this heater down to 25 watts that are suitable for 5-gallons tank. It features an easy to read temperature dial that can be adjusted with 0.5 degrees increments at one time allowing fine control over the temperature of the tank. This heater ensures safety by automatically shutting off when the tank water's temperature drops too low. It also prevents the heater from running itself dry. Moreover, it is a shockproof and shatterproof heater that can be easily installed with the help of included mounting bracket and suction cups.
Aqueon PRO Submersible 50W Heater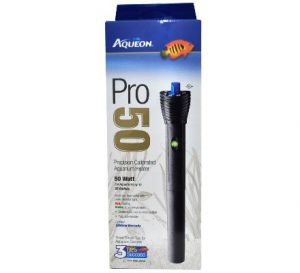 Aqueon Pro Submersible Heater is one of the best heaters available for your betta tank. It features an adjustable heating setting that ranges from 68-88 degrees that provide the ideal temperature of 78 degrees for Bettas, right in the middle. This heater is highly durable and shatterproof as well. It features an LED light that is red during heating and green when the desired temperature has been achieved. You don't need to worry about tank overheating as it automatically turns off when it is at the set temperature. It is a fully submersible heater that consists of an electronic thermostat for an accurate temperature setting. Moreover, it can be used for both saltwater and freshwater tanks. This heater can be positioned both horizontally and vertically. Its only disadvantage is that initially, it takes a little while to heat the tank.
ViaAqua 50-Watt Quartz Glass Submersible Heater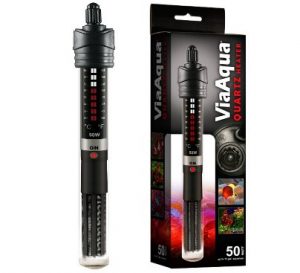 ViaAqua 50-Watt Quartz Glass Submersible Heater is high quality and one of the best-selling heater that includes a fully adjustable temperature and a clear display that helps you make easy adjustments. The quartz glass construction makes it durable and high quality. It comes with suction cups which makes it easy to install. At 8.2 inches length, this heater is fit for a tank size of up to 13 gallons. It comes with a built-in thermostat that allows a temperature range of 68-93 degrees. This heater does a great job of maintaining a consistent temperature. But it may require a separate thermometer as the thermostat is not the most accurate.