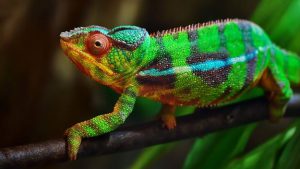 A chameleon is a good choice when choosing a pet. However, it is not one of the common pets that people keep. But these amazing and cute little creatures can show you the diversity of nature through their capability of changing the color that depends on sensations of fear, joy, anxiety or the color of things they touch.
These arboreal reptiles come from a diverse list of climate and locations including Madagascar, Africa, Southern Europe, Asia, and the Middle East. Hence, a chameleon requires slightly special treatment to keep it happy and healthy. If you wish to keep it as a pet, the first essential step is to take care of their habitat so that it can adapt to its new life easily.
Before buying a chameleon, there are a few details that you should consider such as the amount of light they require, the type of tank they like to live in, the right lighting, temperature, proper humidity and a lot of greenery which will ensure a happy and healthy existence of your chameleon. Since a good habitat can keep your pet chameleon active, you should buy a tank that is right for its size, skin type, and origins.
The best chameleon tanks are designed to fulfill the needs of chameleons. Still, there are many high and poor quality tanks in the market and it is crucial how to make a difference between them. Here is a list of some of the best-selling chameleon tanks that will help you in selecting the one which is best for your needs.
Exo Terra Rainforest Habitat Kit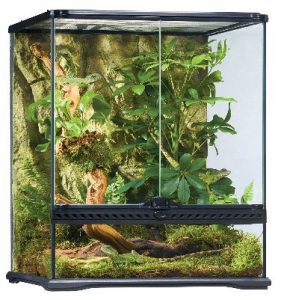 Exo Terra Rainforest Habitat Kit is a brilliant choice for your chameleon if you prefer glass terrariums and don't mind spending a few extra bucks. It is perfect for any new chameleon owner as it comes with all the essential items such as water dish, substrate, jungle rope, jungle vines, and care guide. With this great habitat kit, your chameleon will be secure and healthy. It is very durable and stylish looking which will add a nice touch to your home. To ensure an optimum level of humidity, this enclosure features unique front window ventilation which provides fresh airflow. Furthermore, this window offers a great amount of light that your pet chameleon needs to be healthy and digest food properly. It also features dual front doors that offer you easy access. These doors also ensure that your pet stays in its habitat. Exo Terra Rainforest Habitat Kit is a heavy but stable enclosure that comes with all the essential decoration items.
Zoo Med Repti Breeze Chameleon Kit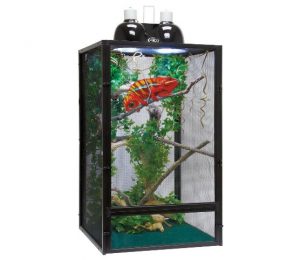 Zoo Med Repti Breeze Chameleon Kit is another great starter kit for new pet chameleon owners. It is a perfect choice for Veiled, Panther, Jacksons, Parsons's or any other kind of Old World chameleons. It is a well-built enclosure that comes at a good price and consists of all the vital items your chameleon will require. Moreover, this tank looks nice and will add a unique touch to your living room. This 16 x 16 x 30 inches, easy to set up tank comes with items such as naturalistic vine, carpet, plants, reticalcium sample, thermometer and tropical lighting kit that allows you to place your chameleon in it the minute you set the tank up. Furthermore, you can also place the light on top of the tank that will give your pet just the right amount of UVB light. Zoo Med Repti Breeze Chameleon Kit is a great looking tank that ensures your chameleon is safe and sound. However, its only downfall is that the unit does not include a mister.
Exo Terra Screen Terrarium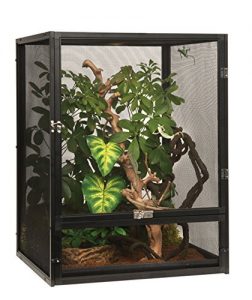 Exo Terra Screen Terrarium is a great chameleon tank that can be used by those of you who are passionate about bringing nature in their homes. This terrarium is good quality, easy to set up and clean product that comes at a reasonable price. Measuring 24 inches x 18 inches x 36 inches, this terrarium is spacious enough for keeping all the necessary items for your growing chameleon pet. Additionally, it consists of a large hinged door that gives you easy access to its interior which allows you to turn it into a home for your little pet. It also features a swiveling bottom door by which you can remove the substrate tray conveniently providing a safe and clean environment to your chameleon. Moreover, it is made from a quality, corrosion-resistant anodized aluminum. This screen enclosure is a breeze to clean and provides a great amount of light and airflow along with protection from crickets as well. Exo Terra Screen Terrarium serves a great choice for younger chameleons with only one downfall that it is not much durable as compared to other chameleon tanks available in the market.
Zoo Med ReptiBreeze LED Deluxe Habitat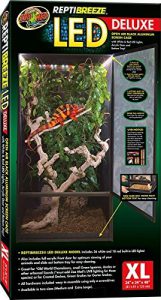 This Zoo Med ReptiBreeze LED Deluxe Open Air Aluminum Screen Habitat is another good option if you are a new chameleon owner. Whether you have Veiled, Panther or other types of Old World chameleons, this tank is suitable for all of them. It is an open-air enclosure that offers screens for sufficient air circulation. The product is available in a size of 24 inches x 24 inches x 48 inches which offer plenty of space for your chameleon and can be considered as a useful feature for the habitation of reptiles. The kit includes almost everything that your chameleon will require such as vine, plants, carpet, and LED stripes, with only one thing remaining which is to place your pet chameleon in it and watch it live happily. The tank offers just the right amount of light at the top. Moreover, these touch activated LEDs are placed at a safe distance from your chameleon that ensures its safety without any harm. Zoo Med ReptiBreeze LED Deluxe Open Air Aluminum Screen Habitat features a corrosion-resistant aluminum construction frame. Its disadvantages include that it comes with poorly explained instructions and does not contain a dripper.