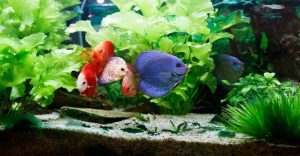 The sump has been one of the most recognizable components of marine aquariums, which are not seen much on freshwater tanks. But in reality, many advantages that it brings to marine aquariums also work for tropical freshwater aquariums as well.  So it is not a marine-specific technique only and a lot of people use sumps for their freshwater aquariums as well. A freshwater aquarium sump is just a tank that accommodates the filtration system, water pump, filtration media, and heater resulting in a chaos-free display aquarium. It is not an aquarium filter on itself. Rather it is an aquarium with many baffles that houses filters or other aquarium equipment.
An aquarium sump is made of either glass or acrylic, the same materials used for building the aquarium itself. If you are intending to get a big tank, aquarium sump filters are a great option for freshwater aquarium because the advantage of a big sump is that it has greater holding potential for beneficial bacteria and greater dirt that helps in the process of Aquarium Nitrogen cycle.
Because in today's time freshwater tanks are getting one step ahead, aquarium sump filters are getting popular among people with freshwater fish keeping hobby as it offers effective and efficient filtration. 
Benefits of an Aquarium Sump Filter
Having a sump system in your aquarium makes your life trouble-free and the life in your fish tank cheerful too. Here are some of the benefits of sump:
Natural Looking Aquascape
By a good deal, the logic behind having a sump in an aquarium is that it hides all the technical aquarium equipment from the front display portion of your aquarium. Your display tank that is your main tank is what everyone sees while the sump is another tank hidden beneath the main tank.
This helps you achieve a natural-looking aquascape with no sight of filters or heaters in the aquarium. It also conceals the drainage and inlet ports easily that lead to the sump. Your most creative and eye-catching tropical aquariums use sump filters and just would not look the same if the aquarium stuff would have been in the main tank. 
Increases Water Volume
A sump is an efficacious way of adding water volume to your aquarium without requiring additional space. Usually, the sump goes in the cabinet under the main tank of an aquarium. So if you have a 100 gallon tank with 20 gallon sump, this gives you a 20% increase in the total volume of water without much effort. Other aquarium filters like HOB, canister filter, and power filters hold a set water volume but a sump system can be built as big as you need. 
Megafilter
Freshwater aquariums are only limited to utilizing canister filters along with some filter media in a closed packed space in the absence of sump. While if you use a sump you can get a big multimedia filter, huge mechanical filter gobs of filter media and other things like temperature and chemical sensors that you would want to hide in an aquarium. It can provide much more filtration that could ever be likely to in a simple display tank itself. 
Stability
An aquarium sump filter is relatively easier to maintain as compared to other filtration systems. It is undemanding to maintain water quality in a larger aquarium than a smaller one with the help of a sump. It makes the quality of water stable.
Recommended Freshwater Sumps
The following turnkey sumps come recommended by our readers due to their robust construction and proven effetiveness.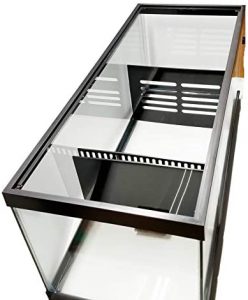 Have an extra 10 gallon or 20 gallon aquarium around and want to build a a DIY freshwater sump yourself? Well you have a couple of options – buy some flat acrylic and cut out all of the holes and shapes yourself, or buy this REALLY convenient Bubblefin Aquarium Sump Refugium DIY kit. This is great because you save money by not having to get a 20 or 10 gallon aquarium shipped for a refugium, but you save a bunch of time by using pre-fabbed separators that you can easily install into a regular aquarium to make an "instant" refugium or freshwater sump.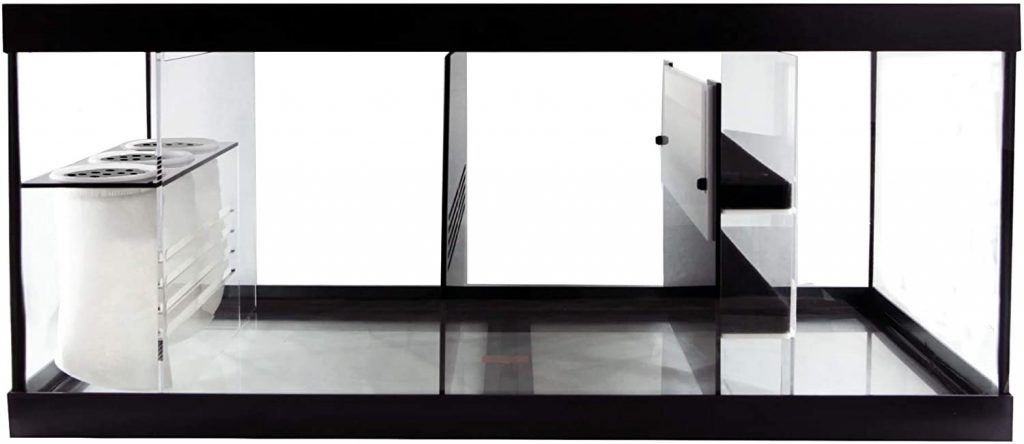 If you want a little bigger freshwater sump try the Fiji Cube Refugium Sump Baffle Kit. These kits are made to fit into either a standard 29 gallon aquarium or a standard 40 gallon aquarium and easily converts the aquarium into a freshwater sump. People who have purchased this kit were excited about the high quality of the product and the ease with which they were able to create their own DIY sump with the kit.