Inside aquarium filters are fully submersible filters that are kept inside your aquarium. They are different from external filters that are required to be placed inside a cabinet or hang on the back of your aquarium. Inside aquarium filters are an ideal choice for you if there is an area in your tank that needs enhancement in water flow. They can be used to assist with the high bioload of the aquarium and when it requires additional filtering. These inside aquarium filters are small, easy to set up, very quiet and affordable that offer excellent filtration. Low water habitats like paludariums are also good spaces for inside filters. It is generally recommended to use inside aquarium filters for small tanks that are under 20 gallons. But they can also be utilized with dead spots in larger aquariums. 
How Inside Aquarium Filters Work?
Inside aquarium filters work similarly like external aquarium filters but they must be fully submerged in the water to work perfectly. The inside aquarium filter can be attached with the help of suction pumps to the walls of the aquarium or placed on the bottom of it. Usually, it is placed in one of the rear corners of the aquarium. The airline is connected to the filter inlet. Air is pumped into this filter via a water pump that is located outside the aquarium. The pumped air moves through the filter and is dispersed on the surface of the water producing air bubbles. These air bubbles produce the much-needed motion in the water that allows it to get filtered throughout the aquarium and get purified by various kinds of filter media. Most common inside filters use foams as the main mechanical material and usually a cartridge that has activated carbon to eliminate organic wastes in the water.
Benefits of Inside Aquarium Filters
Inside aquarium filters are simple to hide from view by using plants and decorations to not ruin the good appeal of your fish tank. Their placement inside your aquarium allows you to put the aquarium up against the wall. Other benefits of inside aquarium filter are:
They are cheap
Quite
Easy to install
Do not need a ton of maintenance
Choosing an Inside Aquarium Filter
You can base your choice of inside aquarium filter when you know more about the details of the species you wish to keep in your aquarium. Here are a few inside aquarium filters that provide superior performance.
Marina I25 Internal Filter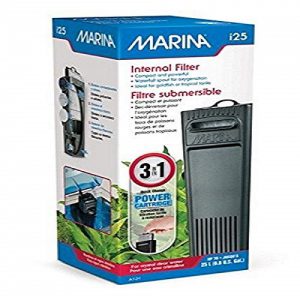 Marina I25 Internal filter is suitable for being used for small tanks with a capacity of up to 6.6 gallons. This filter functions with a unique mechanism that causes water to pass through the middle of the cartridge which allows this inside filter to work efficiently in eradicating toxic ammonia and bad odor from the water. Marina I25 is a powerful and affordable filter that includes activated carbon chamber, zeolite chamber and floss layer to perform chemical, biological and mechanical filtration respectively, to clean the aquarium water and maintain the health of your pet fish. It operates very quietly which allows you to place it beside your bed and not to get worried about its noise. It is also easy to change the cartridge and this requires changing every 4 weeks.
Aqueon Quietflow Internal Power Filter AT30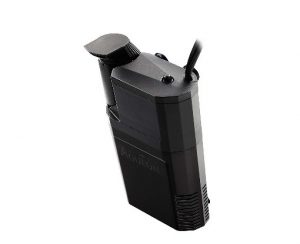 Aqueon Quietflow Internal Power Filter is a versatile inside aquarium filter that is fully submersible and can be placed vertically or horizontally. You can easily adjust the return flow rater, height, and direction of water return. Its feature of providing a very big filter chamber for using filter media is loved by hobbyists. This allows you to use filter media of your choice or you can use the ones that come in the product kit as well. This inside filter consists of a large cartridge that offers three-stage filtration. It has a dense foam for the entrapment of large particles, activated carbon that eradicates odors, toxins and discolorations, and a patent BioGrid for ammonia and nitrites. This filter is a perfect choice for aquariums with a capacity of up to 30 gallons.
Fluval Underwater Filter U4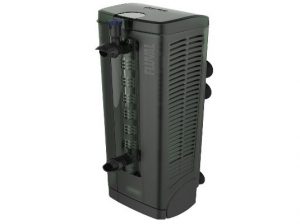 Aquarium owners will prefer this inside tank filter due to its large filtration chamber and good performance which is similar to external filters. Fluval Underwater Filter is suitable for aquariums mounted against the wall or in any setting that doesn't work with external filters. It works well with fish tanks of up to 34-65 gallons capacity. This filter provides optimal biological filtration and can be used as a sole filter or as an additional filter for larger tanks. It consists of two foam pads that look after large particles, 90 grams BioMax that offers the best environment for beneficial bacteria to protect the tank inhabitants, and two poly/carbon cartridges that trap debris. These filter media produce a multi-stage filtration system inside the filter. Fluval U4 offers a unique feature of returning water to the tank through top output, bottom output and a spray bar for filtering and circulating water in a better way. This inside filter is ideal for freshwater, marine, and reptile turtle tanks.
Whisper 10i In-Tank Filter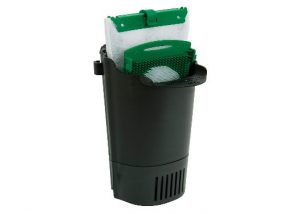 This Whisper In-Tank filter is an inside filter that is quiet and suitable for small aquariums with 10 gallons capacity. This filter consists of a patented bio-scrubber pad along with a medium Whisper bio-bag cartridge for providing three-stage filtration. The Bio-scrubber pad offers an environment for beneficial bacteria to colonize and serve the purpose of biological filtration by processing nitrogenous compounds in leftover foods and fish wastes in the aquarium. On the other hand, Whisper bio-bad cartridge consists of activated carbon for eliminating water products, bad odors, and discoloration in the tank water. This inside filter is easy to install with the suction cups that come along with the product. It can be placed as you want, on high or low water levels, and can be utilized as a waterfall for turtle tanks or low-water tanks. The cleaning and maintenance of the Whisper In-Tank filter are simple with bio-bad cartridge require changing every month.