Aquarium backgrounds are the easiest and one of the simplest ways to add depth and greater detail to an aquarium, giving an endless visual delusion to it. Their installation is undemanding producing substantial impact. You can create an enduring look by selecting the best aquarium background which will be eye-pleasing for you and will be loved by your fish as well.
You can also be creative and add different colored pebbles, plants, rocks, and ornaments in your aquarium along with the background that will enhance your backdrop and it will complement the overall display of your aquarium.
Types of Backgrounds
When it comes to choosing one of the aquarium backgrounds, they offer a large variety ranging from coral reefs, rocky surfaces, ocean floors to mangroves. Most of the backgrounds used in freshwater aquariums are probably laminated photo background themes. They produce a more natural appearance and are either double-sided or single-sided, both of them have no effect on your fish. These can be effortlessly applied and they can also conceal any cords or equipment hanging behind the back of the aquarium as well.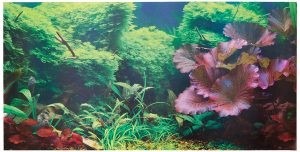 This easy to apply aquarium background is available online.
Alternatively, there are other options also like different wrapping paper or any other sort of decorative paper that you can apply if you do not like the natural feel. You can also paint at the back of your aquarium tank and create your design. Many people like to do this because it is cheap and one can be more artistic with this option but they have to remember to paint on the outside of tank only to prevent poisoning of the fish water from the chemicals in the paint.
Another popular option is a 3D background. This provides dimension to your tank along with hiding places for aquatic creatures in your fish tank. This also acts as a great filtration system that comes naturally to your tank. Vinyl stickers are some of the best backgrounds for fish aquariums that can stick to its either sides.
Benefits of Aquarium Backgrounds
Large aquarium backgrounds are one of the most vital things that has a direct effect on the behavior and color of your fish. In order to reduce anxiety and agitation among some fish when they see their reflection in the aquarium glass, it is best to install the background on 2-3 sides of the aquarium.
It also hides any unsightly tubes, hoses or cords that are hanging at the back of your fish aquarium. It provides a beautiful theme to your fish tank while amplifying its natural beauty providing gorgeous background for your pet fish, plants and decorations.
Selecting a suitable Aquarium Background           
When selecting any aquarium background, you must first visualize what you want to be displayed and design it keeping your fish in mind like what they will like and be satisfied with. Here are a few things to keep in mind to get the right background: 
Right Size 
To get your aquarium the perfect kind of picture, you need to have the right size of background for it. You have to keep in mind that not all aquarium backgrounds are fit for any size. If you have wrong measures, the background might look smaller or overhang the tank giving it unfinished look. Large aquarium backgrounds can be used in large fish tanks as long as it fits the decoration.
Durability
It's thoughtful to use a background that has the property of resistance to water and scratches to make it long-lasting. You should choose wisely keeping its installation into consideration as well, like stickers, for instance, are unchallenging to use.
Fish species & their health
Certain aquarium reviews suggest that some fish species are more comfortable in a darker atmosphere while some feel happy in more light. At the same, you need to give heed to the materials used for the background. Certain materials can be a hazard to fish health and damage their environment. You must make sure before you purchase the product if it is aquarium friendly.