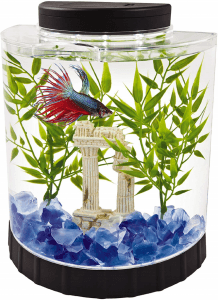 Decorating small aquariums can be tricky due to the limited amount of space available in them. It is not possible to add large-sized decorations to such aquariums. Adding too many decorations, even small ones, can significantly reduce the water capacity of the aquarium. However, it doesn't necessarily mean that your fish tank must look plain and bland. Here are some of the best small aquarium decoration ideas that can enhance the appeal of your fish tanks.
Make it Colorful
One of the fundamental small aquarium decoration ideas is to use a colorful gravel bed instead of a bland one. Consider attractive colors such as fluorescent blue or turquoise blue or go for a multi-colored approach. Choose colors that complement the fishes and decorations that you are going to introduce into the aquarium. Alternatively, you can keep the gravel color simple, such as white, and introduce vibrant decorations or plants.
Add A Small Airstone
Adding an airstone is one of the overlooked small aquarium decoration ideas. It requires very little space and can be placed anywhere on the gravel. Its air pump is installed outside the aquarium and can be hidden from view. You only need space for airline tubing, which is quite thin and easily manageable. The bubbles from an airstone can fill a seemingly empty aquarium. It also improves the oxygen levels in the water while creating circulation, making it healthy for the fishes.
Opt For A Large Single Plant
Aquarium owners prefer small plants over large ones in their aquariums. However, opting for one or two large plants is one of the best small aquarium decoration ideas. Two large plants fill a major portion of an aquarium without overpopulating it. They provide ample space for fishes and are easier to maintain as well. You can contrast a couple of green plants with a white or brown gravel bed for giving your aquarium an aesthetically pleasing outlook.
Introduce One or Two Decorations
While small aquariums have limited space for big ornaments, you can still introduce one or two decorations in them. Introduce a small statue or a gateway that will arouse the interest of your fish and make the aquarium look good. They won't occupy as much space and still add to the appeal of your aquarium.
Add a Background or Wallpaper
One of the simplest small aquarium decoration ideas is to add a background or wallpaper. There are many 3D wallpapers and fish tank backgrounds available that can add depth and dimension to your aquarium. They can make the aquarium look bigger than it actually is. Their designs add color and contrast as well. They are easy to install and don't require any maintenance.
Use a Waterfall Filter
You can add a waterfall to small aquariums without having to sacrifice space. There are many power filters and submersible filters that you can hang on the side of your fish tank. They pour back the filtered water into the tank by creating a waterfall. It will serve the dual purpose of a filter and a decorative item.