All of the fish hobbyists owning aquariums know very well the importance of a filter system in keeping the water clean and maintaining the well-being of their plants and pet animals. Sustaining a pathogen-free aquarium is hard work as factors like fish feeds, water sources, and the presence of chemical and other organic traces can greatly impact the quality of aquarium water. The freshwater or saltwater both can experience bacterial growth and development of microorganisms, making it unfit for your aquatic pet's life. 
Many people install internal filters that are simple sponge filters or others that use active charcoal for ensuring a productive habitat for the fish. But unfortunately, these are unable to evacuate all the pathogens and microalgae from the water. For this reason, aquarium owners install UV sterilizers that can make a great inclusion to a mechanical filter in your fish tanks. 
This strategy of adding a UV sterilizer to your aquarium has proven to effectively eliminate fungi, bacteria, algae, viruses, and other water contaminants in an aquarium, becoming the ultimate hi-tech solution for any aquarium owner's problems. 
What is UV Sterilizer?
UV sterilizer for an aquarium is a gadget for filtration of water that uses a UV light bulb to eradicate microorganisms like bacteria, algae, viruses, and parasites which are freely floating in the water. All these organisms are eliminated after passing through a UV sterilizing section. They can also be used in liquid manufacturing industries, in swimming pools and home aquariums as well. Some of the large water cleansing centers use UV disinfection for the outgoing water. These UV sterilizing units are likewise sometimes used to assist in the growth control of green algae in outsides ponds also.
The algae growth can be a nightmare for both beginners and expert aquarists. A UV sterilizer is a brilliant device to control parasites, bacteria, algae and other kinds of microorganism's circulation. 
Here is a list of best UV sterilizers for cleaning aquarium water and making it pathogen-free:
Coralife Turbo-Twist UV Sterilizers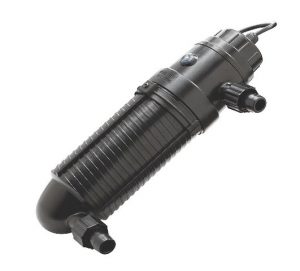 This Coralife Turbo-Twist UV Sterilizer is an incredible choice when you are searching for the best model. One of its top features is that it can deal with large aquariums with size up to 250 gallons and is applicable for both freshwater and saltwater aquariums. This UV sterilizer can be mounted by simply hanging it on the side of the aquarium. It consists of sections for in-line applications along which if you have a pump with a flow rate of 300-900 gallons per hour, a Coralife Turbo-Twist can be attached to the completing end of this filtration unit for keeping your water clear and clean. This UV sterilizer uses intense 18 watt UV light that eliminates bacteria, algae, and other microorganisms. This light is protected by quartz glass sleeve to stop water from entering it which increases its durability. Coralife Turbo-Twist UV sterilizer is durable, affordable, easy to install and does an incredible job of cleaning aquarium water that makes it an ideal, long-lasting gadget. The only downfall of this UV sterilizer is that it does not contain a water pump.
AA Aquarium Green Killing Machine Internal UV Sterilizer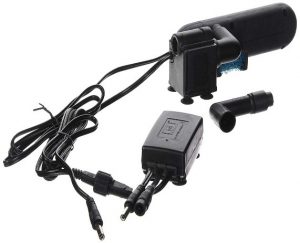 This Green Killing Machine UV Aquarium Sterilizer offers you the most ideal way to keep your fish tank clean and clear without utilizing any chemicals. It can deal with fish tanks with size up to 50 gallons, functions with the use of a water pump and produces disinfecting radiations at 254nm wavelength. It is a versatile, effective and easy to use completely submersible UV sterilizer that consists of a powerhead in one unit. It allows water to pass in a zigzag manner that exposes it maximally to effective UV light that eradicates any harmful microorganisms like molds, yeasts, bacteria, etc. It does not require external plumbing. Suction containers are included for setting it up and it also consists of an LED light that prompts if there is a need to replace the bulb. The only disadvantage is the plastic is of fairly cheap quality.
AquaUltraviolet Advantage 15-Watt Aquarium UV Sterilizer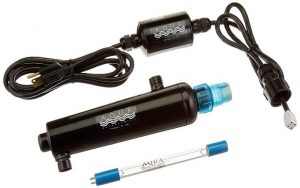 AquaUltraviloet Advantage 15-Watt Aquarium UV Sterilizer is an ideal choice when algae discolor the water and produce an unsanitary look almost a day after changing the aquarium water. It works well in small water features like aquariums and ponds. Basically, it works well in aquariums of 75 gallons capacity. However, it is not recommended by the manufacturers to use it for anything larger than this. This sterilizer works effectively in removing bacteria, viruses, and protozoa from the water and aquariums. But you should note that beneficial bacteria may also get killed if the bacteria are introduced recently in the water. It provides a simple profile that is suitable for small water features. It consists of a timer and is easy to setup. It is lightweight which does not damage the tank or any water feature. Its manufacturer promises of water being cleared in about five days of its use. Although it can be very fast like cleaning the water overnight, depending on the situation as well as the quantity of algae in the aquarium.
SunSun JUP-01 9W UV Sterilizer Submersible Filter Pump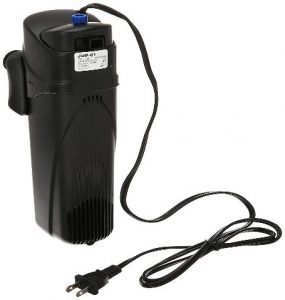 This SunSun JUP-01 9-watt UV sterilizer is a good choice for smaller aquariums up to 75 gallons. It works well for saltwater, freshwater, and ponds as well.  The best feature of this sterilizer is that it doesn't require any additional hardware or pumps as it already includes a water pump that can transfer almost 132 water gallons per hour of UV light. It is easy to mount as it uses suction cups to connect to the interior of the tank either vertically or horizontally. Its only downfall is that it does not work well with fish tanks of larger size.
Aqua Ultraviolet 25-Watt UV Sterilizer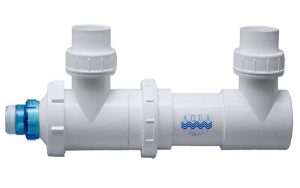 This UV sterilizer is a versatile device that is designed to handle large aquariums. It can serve fresh environments of up to 1200 gallons and saltwater tanks of up to 150 gallons. This product as such looks small with only 2 inches between inlet and outlet. However, the sterilizer is 3.75 inches wide, 6 inches high and 20 inches long. This UV sterilizer has an already installed transformer and a quartz lamp sleeve with the longest lamp lives. It is plumbed inline that makes it simple to install with being able to use it indoors and outdoors as well. Its only disadvantage is that it can take up to a week to notice results.