Lizards are often first pet reptiles for a lot of folks. They are the closest reptile that resembles a dinosaur and does not carry the innate fear which snakes bring to some people. There are plenty of lizards that can make a wonderful pet. Small lizard pets can make great display animals and depending on their species, they have fairly basic care requirements. With a lot of options available, it is essential to select the lizard species wisely as choosing the right pet lizard will ensure that you and your pet are happy and satisfied for many years to come.
Here is a list of small lizard pets that can make a great new addition to any family.
Leopard Gecko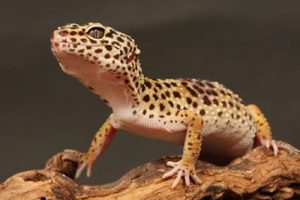 Leopard Gecko is one of the most popular reptile pets kept in captivity today. These are small lizards with simple care requirements. They come in a variety of pretty colors and are usually docile animals that can be tamed easily. Due to their nocturnal nature, no special lighting is required for them. Moreover, their diet is fairly simple with the babies requiring to be fed daily and adults every alternate day. They can be left alone for a few days without any issue. Leopard Gecko is a hardy, long-lived creature that can be a great first-time reptile pet. Their lifespan is 15-20 years, ranging in size from 7-10 inches. Depending on the morph, Leopard Geckos range in color from oranges and bright yellows to white and pale lavender. Furthermore, they can be easily kept in a 10 or 20-gallon tank with the only special care need for controlled heating. They are less prone to caudal autonomy. These easy to find and inexpensive small lizard pets are space-efficient with the only downfall of requiring constant feeding stock of crickets, waxworms, and mealworms because they are insectivorous.
Crested Gecko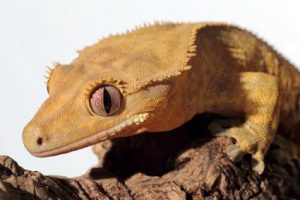 Crested Geckos are also one of the great choices for small lizard pets. They reach in size from 4-8 inches in length, with males being a bit larger. They are found in South Pacific Regions like New Caledonia. They are also known as eyelash geckos for their frill like eye-lash projections that cover their eyes. They require a tall aquarium with branches to climb along with numerous hiding places. They come in a variety of colors and patterns ranging from spots to stripes to everything in between. Furthermore, they can be kept at room temperature but the cage should be misted to keep humidity above 50 %. They can tolerate mild temperature fluctuations. Crested Geckos are pretty much nectar eaters but you can also feed them crickets that are dusted with a vitamin or mineral supplement. Because of their love for climbing, they require 20-gallon tall enclosure along with a screen top. These geckos can be tamed and handled easily but are smaller and more delicate than the large-sized lizards. They are prone to caudal autonomy and can lose their tails accidentally which will not harm them but will not regrow.
Green Anole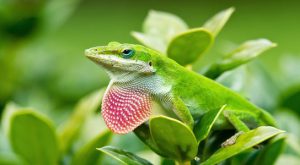 Green Anole also known as American chameleon or Carolina anole are small and quick lizards that make good pets because they can change colors and are interesting. They can grow up to 8 inches long. They like to live in tropical habitats and boast a colorful neck pouch. They can change colors depending on stress, temperature, and other behavioral and environmental factors, from brown to different shades of green. Green Anoles need 12-14 hours of light along with a source of UVB light so they can be kept in an aquarium with a temperature range of 77-86 degrees Fahrenheit with enclosure misted 2-3 times a day. Sticks and branches should be included in the aquarium. Their diet is straightforward. Anoles eat insects and feed well on small cockroaches, crickets, flies, fruitflies, waxworms, and other small insects. Green Anoles are prone to caudal autonomy and use it as a defense mechanism by dropping their tails to distract the predator when they feel threatened. They are affordable and readily available small lizard pets that can thrive in relatively smaller habitats.
Uromastyx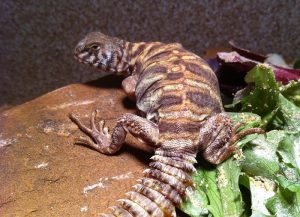 Uromastyx are also called spiny- tailed lizards or simply uros, range in size from 10 inches to 3 feet. Most of them live in dry and hot environments which is easier to create than tropical, moist environments at least for North Americans. Uromastyx are good pets that come in a variety of colors. The genus has 16 varied species of spiny tailed lizards which offers you plenty of diversity in appearance and range. Furthermore, they are omnivore which means that they can eat both insects and plants/ vegetables.
Bearded Dragon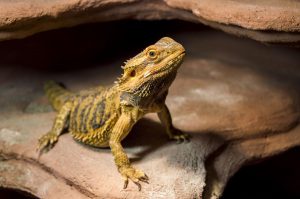 Bearded dragons also called beardies are a good option as a pet lizard. Their relatively small size, docile nature, and straightforward care needs make them great display animals. They are active during the day and have a trusting, laid back behavior which makes them ideal for those who are hesitant or afraid of lizards and snakes. Beardies have a lifespan of 8-10 years and range in size from 14-24 inches. They can be kept conveniently in a 40-gallon sized tank. They require special UVB light source and controlled heating. Bearded dragons are inexpensive, easy to find and omnivorous by nature requiring both insects and vegetables/plants for diet.
Red Ackie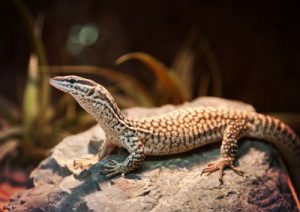 Red Ackie also is known as the spiny-tailed lizard and ridge-tailed lizard is a small lizard that is a true dwarf and an ideal captive with straightforward requirements and care. It is beautifully colored with a resemblance to little dragons. They can be fun to watch and take care of. Red Ackies usually tame very well and can be held easily daily. They can be fed every alternate day and accept a variety of foods such as pinky mice and crickets. Their life span is over ten years and range in size from 16-26 inches. These relatively small, gentle, hardy creatures can be kept in a 55-gallon tank conveniently. Moreover, Ackies require UVB light source and controlled heating. Their only downfall is that they can be a little expensive than the other small pet lizards and difficult to find at times.
Blue-tongued Skinks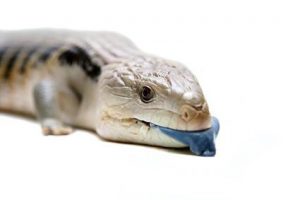 Blue-tongued Skinks are common among the many species of Blue lizards. They range in size from 18-24 inches in length and make great pets because they are intelligent, tolerate handling, and can live longer for up to 30 years in captivity which is greater than many lizards. Skinks are docile and need a complete spectrum of lighting and lamps. They are omnivores which means they can be fed blue-tongued skink worms, insects and vegetables. It is a great option for those of you who are interested in handling their new reptile pets, as they are laid back and exhibit defensive behaviors rarely. Their only disadvantage is that they tend to defecate more often.