Jellyfish are one of the admired pets for fish tanks. Their soothing motion and enchanting forms make them a living form of art. They have been living in our oceans and seas for almost 500 million years. A deadly sting that could kill a human was their only claim to fame until now. But now, we all know that not all Jellyfish species are harmful and the curiosity for these creatures has been on the rise constantly. You can place these exotic fish with the right set up anywhere you want even in your desktop aquarium. They are delicate organisms that need a specific tank environment for thriving. 
The first tanks to house Jellyfish were large, expensive and complicated. But today, technology has come leaps and bounds, and Jellyfish tanks are simpler, aesthetically pleasing and inexpensive. 
How are Jellyfish housed?
There is a large variety of desktop-sized Jellyfish tanks available in the market. They are kept in a special display fish tank that is just like your average fish tank. Their capacity range from 2-20 gallons but there are few in the range of 40 gallons that are ready-made. Fish tanks that require larger than 40 gallons capacity are often custom made. These fish tanks specifically have rounded corners to prevent the structures from getting trapped or stuck in it.
To keep the Jellyfish afloat, the tanks need to maintain a constant flow of water that mimics ocean currents. Generally, these tanks contain a spray bar that allows a gentle sheet of flow. Without this, your aquatic friend will find it impossible to swim in the tank and would flop to its bottom. Pumps and filtration systems are behind the screen to prevent the Jellyfish from being sucked in. As they are transparent creatures, these fish tanks are lined LED lights that produce a colored hue to them.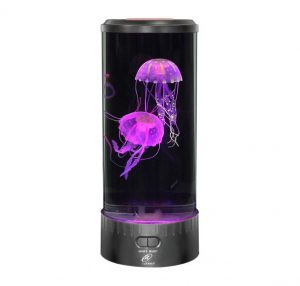 This Lightahead Original LED Jellyfish Lamp is a tranquil and provides a beautiful deep-sea environment with colorful LED lighting to your room. You can watch a beautiful ambiance created by Jellyfish as they swim quietly and it works great as a children's night light as well. 
Once the fish tank is set up, its maintenance is quite easy. Besides daily feeding, you should clean the tank and change 10% of the water once a week. An intense cleaning should be done every 6 months which includes rinsing the internal filter sponge.
How many fish can be kept in a single aquarium?
Moon Jellyfish are age-old classic among all the species that are kept as pets. Provided that they are properly taken care of, their lifespan is usually a couple of years. Flame Jellyfish and Lagoon Jellyfish are also popular among home aquarists. Generally, in a 6 gallon fish tank, you can keep three to four 2 inches Moon Jellyfish. In a 20 gallon fish tank, ten to twelve 2 inches Jellyfish can be kept. However, longer tentacles Jellyfish like Atlantic Sea Nettles are required to be captivated in smaller numbers to avoid tangling.
Jellyfish are breathtakingly attractive creatures and keeping them as a pet in a fish tank can add a touch of class in any humble abode.