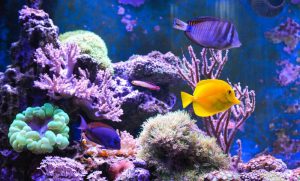 Filters are important for all aquariums as they keep the water clean and remove any harmful dirt and debris which gradually build up in it. There are a plethora of filters available which range from HOB to undergravel to canister filters. But the question arises which one is the best for your aquarium?
Canister filters have gradually grown in popularity. They are efficient and are normally considered superior to all other types of filters. A large number of people are using canister filters than ever before. The reason behind this is that canister filters feature superior mechanical, biological, and chemical filtration capabilities.
These filters can be used in many different setups like saltwater tanks, freshwater tanks, reef tanks, or even turtle tanks. This splendid compatibility is what makes canister filters highly accepted and appreciated by a great number of people.
There are many canister filters available in the market for you to choose from but sometimes it can be hard to figure out which one you need. If you are looking for 150-gallon canister filters then we have made it easy for you by listing below some of the best in this regard. These will help you in selecting the suitable one for your setup.
Hydor Professional External Canister Filter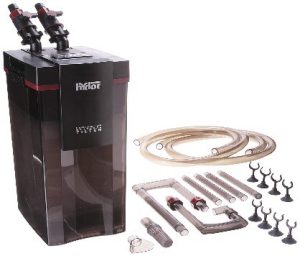 Hydor Professional External Canister Filter can handle large volumes of water operating at a spectacular flow rate speed. It is a complete ecosystem in a package. This filter is made from sturdy plastic which makes it strong enough to withstand the pressure of water. In this way, you don't have to purchase replacements every time because there is no water bypass owing to its unique flash design. This canister filter is great for aquatic life because it produces no sound providing a conducive environment to your pet fish for breeding, growing and coexisting. Moreover, it features wide thick pipes that support a large amount of water flow. It offers all the chemical, mechanical and biological filtration that is required by any environment for a thriving aquatic experience. Hydor Professional External Canister Filter is a powerful filter that is efficient and easy to set up even for beginners. All in all, everything has been made easy with this filter from telescopic intake tubes to easy priming feature. The only disadvantage of this canister filter is that it does not include carbon thus you will need to experience another cost by purchasing it separately.
Marineland C-Series Multi-Stage Canister Filter for Aquariums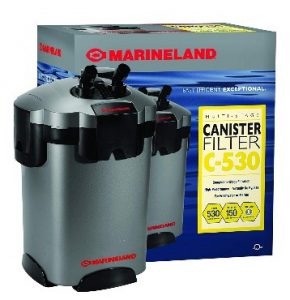 Marineland C-Series Multi-Stage Canister Filter for Aquariums is one of the ideal choices for a large-sized aquarium comprising of 530 gallons per hour flow rate. Its highlighting feature is that it comes with a DVD that offers step by step detailed guide on how to set it up. Furthermore, it includes sufficient sized trays that provide you space to keep any filter media on them that can be changed also. As the name suggests this filter has a unique multi-stage filtration system that allows extraordinary mechanical, chemical, and biological filtration resulting in crystal clear and healthy water for your aquarium. It can work exceptionally for both saltwater and freshwater aquariums alike. This easy to set up and silent filter comes with all the media which is quick to install. Marineland C-Series Multi-Stage Canister Filter is highly recommended and worth every cent.
Penn Plax Cascade Canister Aquarium Filter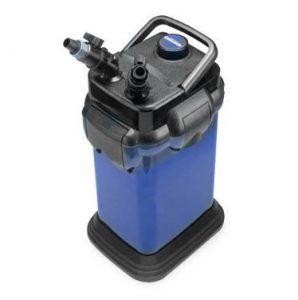 Penn Plax Cascade 1200 Canister Aquarium Filter is another great option that can be considered for both freshwater and marine environments alike. It provides an intuitive setup that is powerful and offers extraordinary three-stage filtration. This filter works ideally for an aquarium of 150 gallons capacity. It measures 11.5 x 20.5 x 11 inches in size and features swimming pool style rotating valves along with flow controls. It also comes with easy to use push button primer that ensures easy and quick set up of this filter. Moreover, these flow valves can be removed easily for maintenance while the hoses, intake, and output stay at the aquarium. Penn Plax Cascade 1200 Canister Aquarium Filter comes with 4 media baskets and works at 315 GPH. It also includes spray bar, tubing, filter medium and directional spout for customization as well. Lastly, this filter comes with a floss pad that can be used to remove particulate matter and a coarse sponge that offers a large surface for promoting bacterial growth in order to remove nitrites and ammonia.
Sunsun Hw304B Pro Canister Filter Kit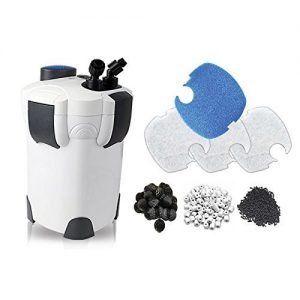 Sunsun Hw304B Pro Canister Filter Kit is another good option that can be used for up to 150-gallon aquariums. The kit comes with a canister filter with a flow rate of 525 GPH, 1 set of bio-balls, 1 pound of ceramic rings, 1 pound of premium filter carbon, 4 white filter pads, and 1 blue coarse pad. This canister filter has a size of 11 x 11 x 17 inches. Its striking feature is that it consists of a built-in 9-watt UV sterilizer that provides crystal clear and healthy water by killing algae spores and bacteria. Sunsun Hw304B Pro Canister Filter offers a big blue self-priming pump that functions great and removes the requirement for manual siphoning. Through its 4 flexible media trays, it provides you excellent mechanical, biological and chemical filtration. Maintaining and cleaning this filter is like a breeze but you will be required to clean it in the sequence of the trays otherwise you will be unable to get the top back on. It also comes with a useful switch that allows you to detach both input and output hoses simultaneously. Additionally, this switch also cut the water off leaving it in both hoses which helps your siphon system when restarting it.
Jebo 838 External Canister Filter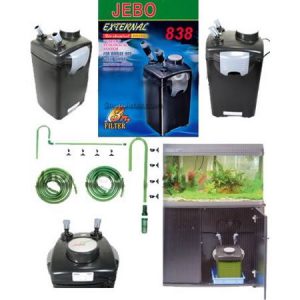 Jebo 838 External Canister Filter is one of the perfect ecological external canister filters for aquariums of up to 150-gallons capacity. It is suitable for both freshwater and saltwater tanks and features splendid filtration capacity. This filter pump has a flow rate of 315 GPH. The Jebo canister filter utilizes a multi-stage filtration approach which separates many distinct filter materials into convenient access baskets. The wide variety of filter media results in crystal clear and waste-free water. It comes with flow control valves of a secured design by which water flow can be controlled delicately as desired. Moreover, the connecting tube ends are threaded to prevent the loosening of rubber pipes. When you press the round button, the water from the aquarium will flow into the filter, air will be squeezed out and goes to the other ending of the outlet tube. Lastly, the filter media is designed in simple modules for effortless replacement and cleaning. All in all, this canister filter comes with everything that you need to get started and does a fairly good job as it is quiet, reliable and efficient.