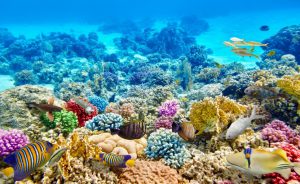 Light is fundamental to owning a successful reef tank. A properly illuminated reef tank creates the illusion of depth and highlights your aquascaping. Live corals rely on proper light intensity and spectrum to stay healthy in reef aquariums. The best lighting will offer your inhabitants the light required to grow and flourish. They come with certain features that make them stand out as the most extraordinary quality. These can include great design, better performance or several others.
With a plethora of options available for best lighting for coral reef aquariums on the market, it can get confusing for you to choose the perfect one for your set up. To help you in making the right decision below is a list for you to follow.
Current USA Orbit Marine Aquarium LED Light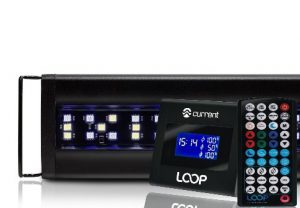 Current USA Orbit Marine Aquarium LED Light is made to be simple, still fully functional. People prefer it for its slim and sleek look. This product offers an impressive brightness that will transform the look of your reef aquarium. It enables you to make all the light changes right from your couch through the remote control. Moreover, its memory setting offers you to customize your settings and save them for quick access later on. Current USA Orbit Marine Aquarium LED Light also comes with sliding docking legs that you will simply adore as they allow easy adjustments for various sorts of installations. Furthermore, the LEDs used in this lighting system are designed to consume less energy as compared to other models. The low voltage is not only beneficial in maintaining low power but is also safe for the aquarium. The light features a 120-degree dispersion angle that offers optimal spread along with color blending as well. Also, many LED lighting fixtures do not work in a saltwater reef aquarium, making it a striking feature of this unit as well.
AI Prime HD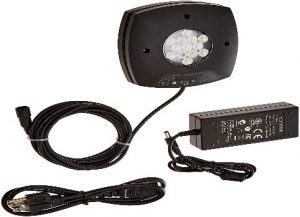 AI Prime HD uses a new LED driver system that provides exceptional lighting. Instead of dimming all colored LEDs, this new HD driver system dims the unwanted colors and sends the power to the LEDs you want to use so they are brighter. The Prime HD Series can produce an unlimited number of spectral combinations to fit your aquarium's exact requirements. It also includes a Wi-Fi control standard and you can use myAI app on any Android or iOS device to effortlessly set up or program one or more AI Prime HDs. Each LED uses an 80 degrees lens for even color blending and PAR distribution under the lighting fixture. Moreover, it also comes with a green and UV LED to augment photosynthesis of zooxanthellae in reef-building corals. The Prime HD measures 4.8 inches square and is 1.3 inches thick making it ideal for nano aquariums that need a compact lighting fixture.  It is available in white and black finish. It is specially designed for reef tanks but can be used for saltwater aquariums as well.
Kessil Controllable LED Aquarium Light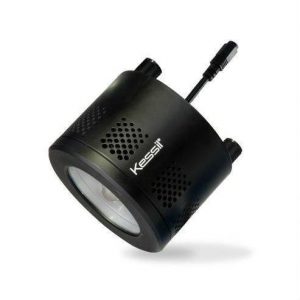 Kessil Controllable LED Aquarium Light is more than worth the price tag as it fulfills the requirement of a high-end LED that presents professional-grade technology to your home reef aquariums. This LED light utilizes a proprietary technology known as Kessil Logic that lets its users choose the ideal spectrum and color with a single knob and then adjust its intensity resulting in an augmented output at both ends of the spectral range by 30%. It eliminates the "spotlight effect", which is seen in some LED lighting fixtures and as a replacement, it produces a natural-looking glow that resembles more closely to an ocean. This lighting system relies on tightly packed and patented LEDs that offer unrivalled natural shimmering effect in the entire tank by marrying different wavelengths before they leave the light source.
WILLS Aquarium Light Full Spectrum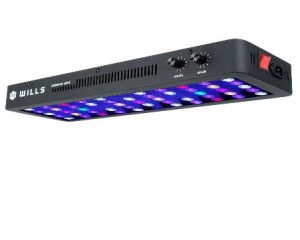 WILLS Aquarium Light Full Spectrum offers a full spectrum of lighting that is needed for coral growth and health. It offers tons of great features and that too on affordable prices. It offers a full spectrum light that has red, green, blue, white and purple LEDs and also comes with both a blue and white channel with each one being able to dim independently according to your coral's needs. However, it does lack the fine-tuning control that can be achieved with the app-controlled lights. You can daisy chain multiple units together to light a longer aquarium and eliminate any dark spots. This lighting system mounts by hanging from the ceiling. It does not include the option of mounting it directly on the aquarium. Furthermore, it also consists of 90 degrees crystal optical lenses that aid in deep light penetration in the water, perfect for aquariums that are 24" deep.
Hipargero 30W LED Aquarium Coral Reef Lighting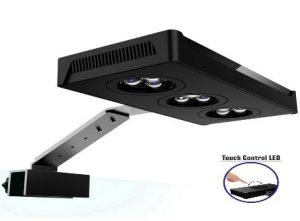 Hipargero 30W LED Aquarium Coral Reef Lighting is one of the best lighting options if you are building a nano reef aquarium or similar under 40-gallon reef aquarium. It is affordable but also very powerful and competent lighting system that can be used in most mixed reef setups. It is a small light that produces a small light spread. This lighting system features touch-sensitive controls and an adjustable 2 channel light system. However, this touch system can get a bit finicky at times. Moreover, it also includes a mount for easy installation but this mount is too long for some nano aquariums and does not adjust. What the users like about this light system is that the manufacturer completely backs its lights with a 30-day money-back guarantee and happily answers your question 24/7. Overall, this unit is preferred for small reef tanks.
MICMOL Smart LED Aquarium Light
MICMOL Smart LED Aquarium Light is specifically designed for growing saltwater coral. It allows you to instantly choose the perfect lighting for your aquarium that mimicks sunrise, sunset and even lightning storms by using a smart controller. Moreover, it can be set to an automatic cycle that moves gradually between 6 stages or can be manually programmed to your coral's need as it grows. It features a thin unibody design that can be mounted on tanks ranging in 13-66 inches in length. Users prefer it for its affordability, easy assembly and plenty of opportunities to customize it. It can be adjusted to each spectrum of light i.e. red, blue, and white. Due to its sleeker frame, it should not be mistaken to sacrifice power. This lighting system provides all the brightness you would want from a high-tech lighting fixture.