Many of us love the idea of having an aquarium but some of us find it a bit challenging too, simply because of the space issue sometimes. Usually, when we think of fish aquariums, we conceive of big glass containers filled with water that either require an invaluable pedestal or utilize valuable space on our tables or counters. However, this problem case can be easily solved since the release of one of the latest kinds of aquariums, called the nano aquariums. 
A nano aquarium is the ideal small tank that fits easily into all types of locations like in your home or office. It is a perfect choice for those who don't want to commit to a huge tank. This small-sized tank is perfect for all fish hobbyists if they are ready to carry out regular water changes. Nano aquariums are cheap to buy which makes them very popular among people. For a startup beginner, this aquarium can be used to keep a few fish and for an expert, it can provide a creative space to make a unique setup.
Nano Aquariums are typically not larger than 15 gallons in capacity. These aquariums can be stocked in a variety of ways, from simple tropical setups to shrimp-only aquariums, to magnificent nano reef aquariums. They can offer a beautiful environment for numerous small fish. But you should keep in mind that the smaller the water body you keep in an aquarium, the harder it is to maintain the stability of water parameters. A nano aquarium can prove to be a tremendous addition in your setting if you have a good understanding of the importance of water parameters.
Here is a list of some of the best nano aquariums in the market.
1. MarineLand 5-Gallon Nano Aquarium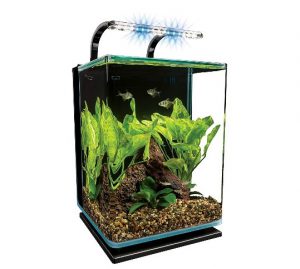 MarineLand 5-Gallon Nano Aquarium is one of the best quality aquariums, available at an affordable price. It is easy to setup with simple maintenance. It has 2 different LED settings with each one to imitate moonlight and daylight. It consists of an efficient energy light system that is held on a hinged rail. This modern-looking aquarium is small that can easily fit on any small surface and includes a quiet filter for a three-stage filtration system along with a cartridge. It has curved glass sides with a sliding glass canopy on its top that makes feeding time and routine maintenance undemanding by providing easy open and close lids. It offers a portrait orientation that permits you to grow relatively larger plants.
2. Tetra Crescent Acrylic Aquarium Kit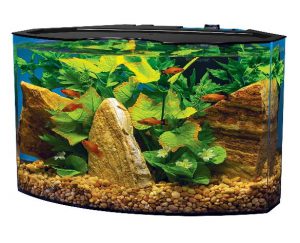 Tetra Crescent Acrylic Aquarium has a 5 gallons capacity. Its curved acrylic front gives a graceful look, perfect for keeping at home or office. It is equipped with 16 LED lighting system that ensures evenly spread and energy-efficient lighting in the fish tank. It has a mechanical filter that transfers water from the tank into the filter cartridge that consists of a dense mesh for capturing all the waste resulting in crystal clear water at all times. This product includes an activated carbon which removes odor and discoloration from the water. It has 16.6 x 11.2 x 13.2 inches dimension and 1lb weight making it suitable for one goldfish or placing 3 community freshwater fish. Its only disadvantage is that it does not have a heater. 
3. Fluval Spec V Aquarium Kit, 5-Gallon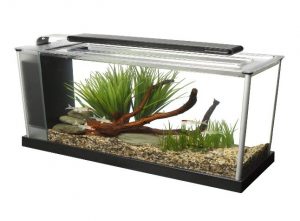 Fluval Spec V Aquarium is a narrow and long fish tank with an LED light system consisting of 37 lamps. It has 17.2 x 10.6 x 6.3 inches dimension. This aquarium gives a modern look by using etched glass combined with the light in the aquarium. This nano aquarium consists of a pump and filtration system that are located in separate chambers providing the three-stage filtration system through a porous foam block, activated carbon and BioMax. This serves an ideal aquarium for single betta for most of the people but you may need a heater for that but this is solved with stick heaters that fit above the pump. The pump is quiet which makes it easy to use in an office. The aquarium provides a large amount of space being suitable for a desk. 
4. Tetra GloFish 3 Gallon Aquarium Kit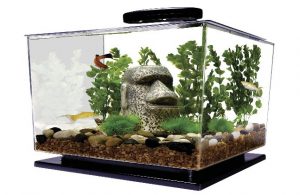 This nano aquarium is of 3 gallon capacity. It is tiny and should only be used if you intend to maintain it regularly. This nano cube along with its cover is made up of sturdy plastic that is crack and shatter-resistant. The kit consists of a filter, an LED light that hangs over the aquarium and a pedestal base to sit on. The tank has a small hole on the top to easily feed the fish. It has dimension of 10 x 10 x 10.512 inches. It is easy to set up and proves to be a great starter kit and you can also adjust the flow of the filter. The only disadvantage is the filter might get noisy until the clearance of air bubbles. 
5. AquaticHI Nano Desktop Aquarium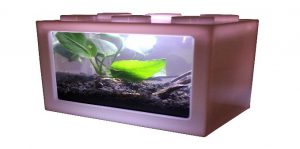 AquaticHI Nano Desktop Aquarium is a perfect choice if you require a small desktop aquarium for accommodating little betta fish, shrimps or moss balls. This aquarium has a capacity of ¼ gallons of water and has 3.2 x 4.7 x 3.9 inches dimension, making it a stackable option for an office, home or even for your children's room. It is a startup aquarium for beginners and proves to be a good choice for your children who are impressed by aquatic life but are not old enough to maintain a large aquarium. This nano tank which looks similar to a piggy bank can be utilized as a mini desktop aquarium, planted tank, insect terrarium or a plant terrarium. The AquaticHI Nano Desktop Aquarium Kit consists of a fish aquarium, a USB LED light along with a collection of blue stones for adornment. The aquarium comes in three colors i.e black, white and yellow. Its disadvantage is that it is too small for placing more than a few pet fish. Secondly, it is not suitable for goldfish; only tetras or similar fish species can be placed in them.