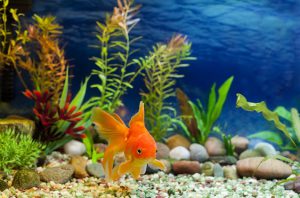 An aquarium is a closed system that accumulates debris and waste over time and gets turned into various by-products. These by-products can be quite hazardous to your pet fish along with the overall health and cleanliness of the aquarium.
But with the help of good quality and greatly functioning aquarium canister filter, you can ensure your fish are swimming in clean and clear water.
Canister filter can seem a bit technical and complicated and finding the best canister filter can be hard sometimes if you don't know what to look for.
To help you, this review guide will simplify your selection process and offer you an overview of some of the best aquarium canister filters on the market. Take a look.
Fluval External Filter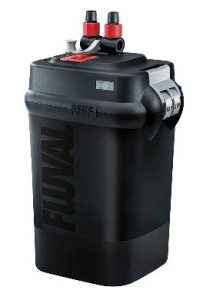 Fluval External Filter offers some pretty amazing filtering techs. It provides you a range of sizes to select from i.e. from the smallest Fluval 106 with 95 GPH to the largest Fluval 406 with 383 GPH. They are dependable and strong that are fit for both freshwater and saltwater aquariums. It can be used for aquariums of up to 100-gallons. This canister filter includes a powerful motor that is durable and should maintain a strong water flow between the maintenance. Moreover, it features a protective cover and precise-engineered bearings that help in minimizing the noise from its impeller along with protecting it from moisture and debris. It also consists of an AquaStop valve which allows you to adjust the flow rate. Its installation is very easy. This filter utilizes the entire volume to separate each stage of filtration which results in higher efficiency and mess-free maintenance. It also works ideally in absorbing debris and preventing clogged media. Lastly, it also offers instant priming which is a great feature because it removes your need to experience siphoning your aquarium water.
Penn Plax Cascade Canister Aquarium Filter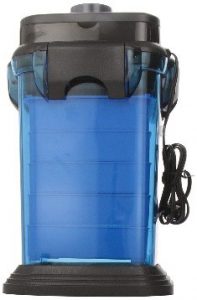 Penn Plax Cascade Canister Aquarium Filter is another great canister filter that offers multi-stage filtration which ensures removing all the dirt in every possible way providing a sparkling clean environment for your fish to swim in. It is suitable for saltwater and freshwater aquarium alike and can be used for tanks of up to 200-gallon capacity.  This canister filter comes with all the necessary parts that help you in easily installing it on your tank. It also features a flow rate control valve that is essential to prevent any leaks during maintenance. The large filter trays on this unit will last a long time before you will think about replacing them. Furthermore, changing the media is also not tough as it includes an easy-lift clamp that provides you access to filter media and other spaces that need maintenance.
EHEIM Classic External Canister Filter with Filter Media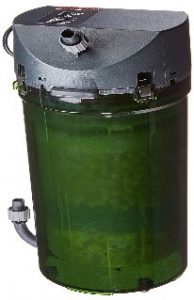 EHEIM Classic External Canister Filter with Filter Media is fit for handling fish tanks of up to 66-gallons capacity. Weighing 4.5 pounds and offering 116 GPH flow rates, this canister filter is another great option for fish enthusiasts looking for a good quality filter to provide clean water for their pet fish. Measuring 14 inches in height, this model is on the smaller side. This filter comes with Eheim branded media that include Ehfisynth, Ehfifix, Ehfimech, and Ehfisubstrate. Ehfisubstrate is in particular known for offering a large surface area for the growth of beneficial bacteria. Its highlighting feature is its one-chamber design which enables the users to customize how much they want each type of filter media in the filter, separating the media into layers by using provided Eheim filter pads. Its compact design is known for being efficient and quiet. However, this canister filter is somewhat underpowered as compared to the other larger models available. Still, if your tank is on the smaller side then this might prove to be an optimal canister filter for 55-gallon tanks.
Hydor Professional External Canister Filter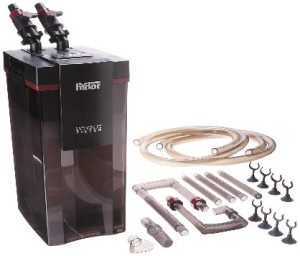 Hydor Professional External Canister Filter can handle large volumes of water operating at a spectacular flow rate speed. It is a complete ecosystem in a package that is suitable for 150-gallon aquariums. This filter is made from sturdy plastic which makes it strong enough to withstand the pressure of water. Pushing its self-priming button 3 times and you are ready to get started. This canister filter is great for aquatic life because it produces no sound providing a conducive environment to your pet fish for breeding, growing and coexisting. Moreover, it features wide thick pipes that support a large amount of water flow. It offers all the chemical, mechanical and biological filtration that is required by any environment for a thriving aquatic experience. Hydor Professional External Canister Filter is a powerful filter that is efficient and easy to set up even for beginners. All in all, everything has been made easy with this filter from telescopic intake tubes to easy priming feature.
Marineland C-Series Multi-Stage Canister Filter for Aquariums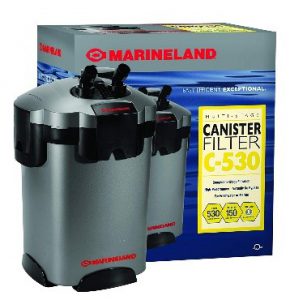 Marineland C-Series Multi-Stage Canister Filter for Aquariums is one of the ideal choices that is fit for 150 gallons of aquariums, comprising of 530 GPH flow rate. It is specifically created to offer a fast and spill-free setup. It is suitable for both freshwater and saltwater aquariums, providing multi-stage filtration that provides a healthy aquatic environment to your fish. Furthermore, it includes sufficient sized trays that provide you space to keep any filter media on them that can also be changed. This canister filter features a lid that creates a watertight seal when compressed and lifts for a simple compulsion. This easy to set up and silent filter comes with all the media which is quick to install. Moreover, it has a fast-prime button that conveniently loads the chamber with water for a quick, self-priming setup. Its specially designed valve enables you to instantly close water flow and separate the cover from the engine for fast and spill-free maintenance.
Fluval Canister Filter, FX6 Filter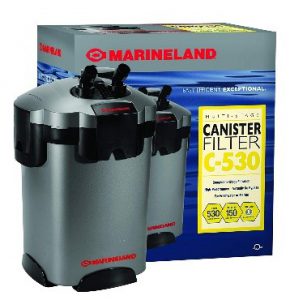 This uniquely designed canister filter works ideally for large-sized 400-gallon aquariums and is rated with a flow rate of 563 GPH. As expected, it comes with the power, durability, and tech that you will look for from a high-performance filter. FX6 is an improved version of FX4 with better motor technology, performance and consumes 10% less electricity. It features a protective cover along with a precise-engineered bearing that minimizes the noise from the impeller and protecting it from moisture and debris. Its self-priming pump is easy to set up that tracks the water flow and adjusts automatically to maintain a constant flow rate and purge trapped air every 12 hours. Additionally, this canister filter uses a 6-stage filtration with each basket precisely-engineered to stop any water bypass resulting in a more efficient process. It is easy to maintain model that has a monthly indicator dial that indicates the last water change and maintenance.