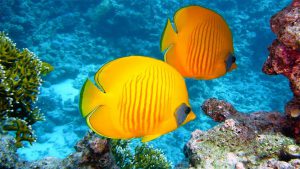 Whether you are a novice who is considering to set up your first aquarium or an experienced fish hobbyist looking for new fish tank products, it is effortless to get lost in the sea of options out there. There are a plethora of new technologies and a myriad of products to select from. With a great number of companies all claiming to be the top aquarium brands out there, it can be confusing to decide which one is the best. With the help of this article, you will find a definitive guide to the top aquarium brands out there.
Aqueon
Based in Wisconsin, USA, and developed by true aquatic hobbyists, Aqueon offers a comprehensive array of aquarium solutions in order to maintain healthy and life-sustaining aquatic environments. It firmly believes that it is all about the fish, therefore has been keeping your wet friends healthy and happy for many years. It includes a wide range of products that include aquariums, aquarium starter kits, filtration, décor, media, lighting, heaters, water care, shrimp care, nutrition, and glass tops. Lighting is essential for the growth of live plants and the thriving of certain fish species. It does not matter what plants and fish you keep, Aqueon knows this and has developed lighting for all your requirements which include both fluorescent and LED lights in a broad variety of choices like fixtures, strips, and built-in hood. Since heating is vital for keeping tropical fish, Aqueon has considered this and created heaters for maintaining the optimum temperature for them. They offer a variety of heaters in this regard such as adjustable heaters if you need higher or lower temperatures, mini or flat heaters in case you have limited space. Aqueon is also one of the top aquarium brands for water care. It creates and stocks water conditioners essential to turn tap water safe and also some other products such as algae removers, water clarifiers, water renewals, and plant foods.
Fluval
Since the time in 1975 when Fluval broke onto the aquatic scene by introducing the world's first 3-stage filter, it has been a landmark in launching innovative aquarium products that set the bar in quality, functionality, and style. Fluval is one of the most recognized and trusted brands in the aquarium world. The most recent addition in its collection, the FX6 is a high-performance model that is suitable for aquariums with a capacity of up to 1500 liters. It is self-starting, monitors its performance and uses 10% less energy as compared to previous models resulting in crystal clear water.  Although best known for its filtration products, Fluval also manufactures other aquarium products as well like nutrition, décor, heaters, water and plant care products, and some of the amazing and high-performance aquariums. The Chi, Edge, and Flex range are some of its finest with all essential equipment such as wiring is concealed away from sight.
Tetra
Tetra was established by Dr. Ulrich Baensch in 1951 and is regarded as one of the largest global manufacturers of fish food products which they sell to thousands of dealers worldwide. Tetra revolutionized the industry when it launched flaked fish food when ready-made products were not available. With the advent of flaked fish food, aquarium hobby opened up to a whole new range of people that was not present before. From that onwards, Tetra continued to focus on developing more and more quality, innovative products. Today, it produces three brands for aquarium foods aimed at a broad variety of species including bettas, goldfish, cichlids, plecos, corydoras, and shrimps. Moreover, it also produces a wide variety of all-inclusive products such as marine food, tropical food, bloodworm, vacation food, baby shrimp, snacks and krill. Tetra is also responsible for producing its very own range of aquarium kits that contain everything you require to set up and start a fish tank instantly and efficiently. Tetra also manufactures water care products, filtration units, lighting units, heaters, décor, and other accessories as well.
Marineland
Based in the USA, Marineland has been manufacturing innovative aquarium products for over several decades. The spirit of innovation can be found in all of its products as diverse as the Magnum canister filter and the revolutionary Advanced LED Lighting Systems. Whatever is your passion whether saltwater or fresh, small or big, you can count on Marineland because it brings you the most technically advanced, most reliable and the top quality aquariums and accessories available on the market. Furthermore, it produces a plethora of aquarium products which include water and nutrition care, filtration, replacement cartridges, and filter media, lighting, LED POD lighting, heaters, aquariums, plants, hoods, stands, and various other accessories.
Juwel
Juwel is a leading aquarium brand in Europe and has been synonymous with innovation and quality in aquarium manufacturing for more than 50 years. It takes pride in providing solid, functional, and attractive aquariums. All of these aquariums are suitable for every setting from home to office or any other environment. All of its aquariums come with filtration, lighting, and perfectly matched and standard cabinets that are available as extras. Juwel produces five lines of the aquarium that are available in varied sizes and colors. The variety of lines includes Rio (classic design), Lido (cubistic design), Vision (curved front aquariums), Trigon (corner aquariums), and Primo (entry-level). Moreover, Juwel offers other high quality and modern technology aquarium products as well which include filtration, lighting, décor, saltwater products, and accessories. Juwel is well adept and one of the leaders in the production of all of them.           
Koller
Based in Missouri, USA, Koller is one of the top 100 injection molders as they have been capable of designing and molding completely seamless and leak-proof aquariums since 1985. It is one of the supreme manufacturers of aquariums. Although it manufacturers a wide variety of aquarium products like filters, gravel cleaners, baby and airline nurseries, etc. but it is best known for its fantastic and innovative aquariums. Because they can be molded and in one piece, Koller has created them in all kinds of creative shapes like 180 view (half-moon), panaview (no sharp corners), 360 view (circular), semi hex, stemware (brandy glass), scalloped and pedestal kit. All of the Koller aquariums are guaranteed to be impact resistant, crystal clear, leak-proof and most of the kits supplied with LED lighting and filtration. Bowls and betta homes are excluded from this. Koller aquariums only come in small sizes i.e. 0.5-7 gallons.