Setting up a fish tank can seem intimidating initially, but until you get your feet wet you will realize that fish tanks are much easier to maintain and set up than you thought. All you need to do is to ensure regular maintenance and cleaning of your tank to help in preserving the delicate ecosystem in it because the aquarium water can easily become hazardous to the health of your fish friends if not maintained rightly. Regular cleaning of your fish tanks allows regulation of the nitrogen cycle in it, removes dissolved and particulate organic compounds and replenishes it with essential minerals. Today there are various automatic fish tank cleaners available that not only perform their cleaning duties efficiently but also help you in saving time. Some of them are as follows:
RoboSnail Automatic Aquarium Glass Cleaner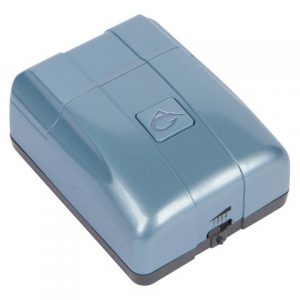 RoboSnail automatic aquarium glass filter is an automated magnetic in nature glass cleaner that averts algae buildup on the surfaces of aquariums. Its distinguishing feature is that it is activated automatically after its last cleaning time once a day in 24 hours without user intervention. The constant preventative cleaning property of RoboSnail prevents algae from taking hold of the tank surface. It is made to work with most rimless, wall-mounted or freestanding fish tanks. After the initial preparation of the glass surface and completing a simple program mode, this cleaner is ready to go. It can sense the top, right and left edges of the tank and start cleaning according to the user's preprogrammed parameters of the aquarium. It is well suited for standard glass aquariums from 55-150 US gallon aquariums with a glass size of 6-10mm.
MOAI Robot Fish Tank Cleaner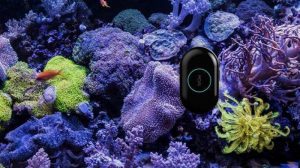 MOAI is fundamentally a fish tank cleaner but also consists of a full HD camera that can record your aquatic tank fantasies. It essentially consists of two units- one on the outside and one on the inside of the glass with a pad for scrubbing of algae attached to the front of it. These two units are attached via built-in magnets through the glass surface. The outside unit is motorized which helps in its movement. The inside unit moves along with it brushing the algae away. The superlative quality of this automated cleaner is that it cleans the fish tank itself and goes back to its glass mounted charger once it runs out of charging. Its users can schedule the tank cleaning time through their mobile apps and use their phones as a remote control and a joystick to move and control it the way they want. 
Fun Self-Cleaning Fish Tank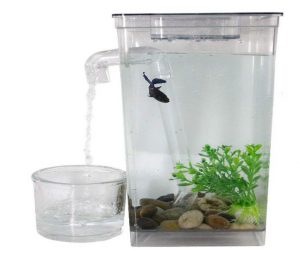 Fun self-cleaning fish tank made of shatterproof plastic helps in maintaining the cleanliness of your aquarium. It does not require electricity, high running costs or constant maintenance. You can simply pour a glass of water in your desktop aquarium and it cleans itself in less than 60 seconds. To allow dirty water to flush itself out, place a collection glass below the nozzle just before pouring water in the fish tank. When the water reaches the ideal level, the cleaning stops automatically. This self-cleaning fish tank does not require any cords, filters, fishnets and no removing of plants or rocks and no vacuuming of gravel.