Turtles are loveable pets with peculiar characteristics that can make a lovely addition to your aquariums. These shelled creatures are aggressive swimmers who need a strong and durable home to move freely. Though they might not be as playful and cuddly as dogs and cats, they surely make a great pet. They have been existing since prehistoric time. It can be quite mesmerizing to observe them. Turtles would surely live long provided their habitat is clean and you feed them good food. They are cold-blooded animals who require to stay warm and breath air regularly. So their habitat is needed to be maintained rightly in order to keep them healthy.
It can be a bit daunting to set up a turtle tank and needs a little research before buying a good tank for your shelled friends. There are various turtle kits available in the market. We have made a list of best turtle tanks for you to select and establish a perfect habitat for your lovely pet.
Tetra Deluxe 20 Gallon Aquatic Turtle Kit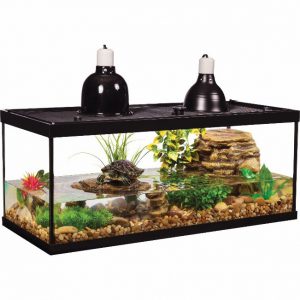 Tetra Deluxe Aquatic Turtle Kit is one of the best choices for beginners. The size of this tank is 20 gallons which is just perfect for starters. The kit contains all the necessary accessories like a decorative quiet filter, basking platform which is perfect for your pet to sit and stay warm, two heat lamps for warmth, three-stage filtration system to keep the water clean and odourless, and a boxwood plant mat which makes it a ready to set up kit. The filtration system present in this tank offers a wonderful waterfall feature that produces an eye-catching moment in your turtle tank. The only disadvantage of this tank is that there are no other sizes available in it if you are looking for tank sizes than 20 gallon capacity.
Reptile Habitat Aquarium Tank Kit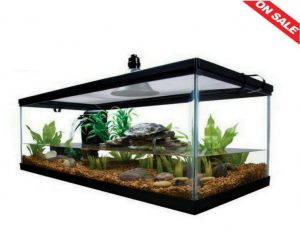 The Reptile Habitat Aquarium Kit offers a 10 gallon-sized tank which is a good choice for beginners who wish to own a juvenile turtle along with light decoration for their tank. This product comprises of plastic and glass construction and a hiding hole for your shelled friend to rest. The basking platform offers sufficient space for your turtle to warm beneath the UV heating bulb. It also includes a Tetra Whisper water filter that keeps the water clean and free of harmful bacteria. The only downfall of this kit is its manufacturing problems like heat lamps might not work or you may have to purchase additional accessories. Otherwise, it is a complete tank that is affordable and doesn't take much space.
Aqueon Basic Kit Aquarium, 10 gallon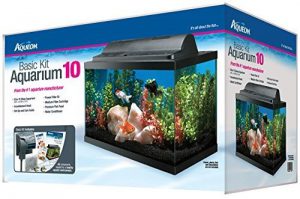 The Aqueon Basic 10 gallon Aquarium Kit offers a sturdy glass construction to withstand the high pressure of water in the tank while keeping your shelled friends safe inside. It consists of a Quietflow water filter that keeps the water clean and eliminates any harmful bacteria present in the water. This kit in particular features a filter cartridge that is essential for filtering the water faster to provide a peaceful environment to your pet turtles. This kit also includes a 2 incandescent heating bulbs and a deluxe fluorescent hood to keep your pet warm along with a fluorescent lamp.
Exo Terra Allglass Terrarium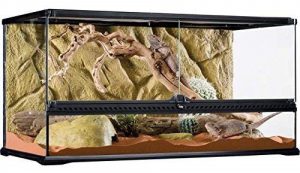 This Exo Terra Allglass Terrarium is a big aquarium suitable for inhabiting amphibians like your pet turtles and it can accommodate reptiles as well. This tank is made up of high-quality materials that make it highly durable. It consists of a screened top that allows perforation of a heat lamp to produce a basking spot for your turtle.  This tank creates a perfect habitat for your pet if you wish to install a waterfall feature in it.
Aqua Culture 10 Gallon Reptile Kit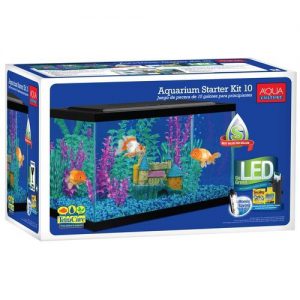 Aqua Culture 10 Gallon Reptile kit is an inexpensive turtle tank that you can get in the market, making it a good choice for those of you who are on a budget. It is a good investment along with a nice habitat for your turtle pet. The tank is made up of a sturdy glass making it long-lasting and consists of a Tetra ReptoMin food which makes it a great beginner's kit. It is a 10 gallon sized tank that can accommodate 1-2 turtles. This kit consists of a 60 watt dome lamp to keep your turtle warm and measured stair steps that offer easy climbing towards the basking area. It also provides a hiding spot and a see-through glass that enables you to watch your pet's activities. It has a basking platform that is sufficient in size creating ample space for it to bask and swim comfortably. This tank looks nice, doesn't take up much space but you may need to purchase additional accessories.
Zilla Aquatic Turtle Kit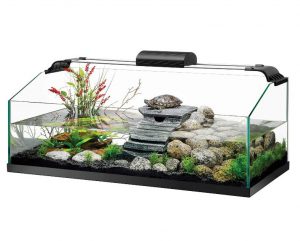 The Zilla Turtle Tank is a unique and beautiful choice for accommodating your pet. This kit offers a tank of 40 gallon capacity, a high-quality UVB lighting and heat materials, a chamfered front, a water conditioner, and an open-top terrarium. The tank gives you sufficient space for decoration. You can develop both wet and dry areas in it with no restriction of space. Hence it proves to be one of the perfect options to inhabit your turtle pets. Your shelled friend can comfortably swim and bask easily due to the presence of heat and UVB lighting in the tank.
Tetra 20 Gallon Complete Aquarium Kit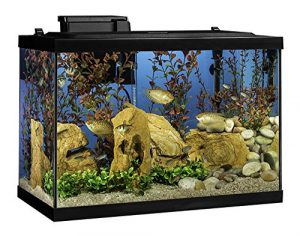 The Tetra Complete Aquarium Kit comes in 20 gallon size as well and works well for a lot of juvenile turtles. It is a perfect choice for an apartment setting as it doesn't take up much space. This tank consists of a sturdy glass construction that is resistant to scratches offering good durability and safety to shelled friends. It has a Tetra UL mini heater system to provide warmth to turtles and comes with some sample foods. It also features a Tetra Whisper filter and an LED hood that produces a daytime effect. To make it aesthetically pleasing this tank contains an artificial boxwood plant mat of high quality and plant multipacks. The only downfall is that it might not be cost-effective and you may have to buy additional accessories.