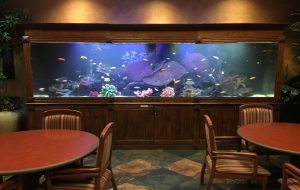 Aquariums are an exciting way of creating a tropical underwater wonderland in your home, offices or public settings. They are not only eye-catching but inhabit a variety of really unique critters and plants. With the availability of many sizes and shapes of aquariums on the market, it is no more a problem for any fish enthusiast to create a small piece of ocean in his room.
1000 gallon fish tanks are huge aquariums that showcase your vision of the ocean. These fish tanks are always custom made. Most of them are constructed from acrylic which is durable and lighter than glass. They are expensive because of their big size. Moreover, its maintenance is also not easy.  They can include stands, canopies, overflow, holes, and room dividers. It can accommodate numerous fish that range from goldfish, koi fish, to rainbow and Bala sharks using the volume necessary for them. This large aquarium offers a delightful and captivating view and can add a pleasant touch to your environment.
If you are intending to buy a 1000 gallon fish tank then you can get it custom made from the following companies. Let us take a look at them.
FishTankBank
FishTankBank is a Delaware, USA based company and is a proud supplier of aquarium products. It is specialized in a wide range of tanks. It includes a dedicated team that helps its customers even if they intend not to buy from them. This company has been featured for its marketing and branding approach in a range of publications. It builds high-quality glass and acrylic custom aquariums that are strong and will last a lifetime. All the sizes and dimensions of the aquarium are decided by you and can vary as much as you like because everything it builds is completely custom. It offers free shipment as well.
SeaQuatic Aquariums
SeaQuatic Aquariums is specialized in designing custom aquariums of a capacity of 500 gallons and above. It is responsible for providing innovative aquariums, handcrafted coral reef inserts, proprietary adhesives, and patent-pending bonding methods. It has an experience of manufacturing all acrylic fish tanks of up to 8000 gallons and concrete fish tanks of up to 35000 gallons. By supplying superior quality products, SeaQuatic Aquariums has become one of the custom aquarium manufacturer of choice for hotels, private institutions, commercial venues, resorts, and elite residential homeowners. It builds high-quality acrylic custom fish tanks and is a good choice for your next aquarium project due to its state of the art manufacturing facility and committed team.
Custom Aquariums
Based in Wisconsin, USA, Custom Aquariums is responsible for providing quality built to order aquarium systems. It offers you the platform to choose what configuration you like based on your specific needs for an aquarium. With its free fish tank delivery and refundable fish tank kits, even the large-sized aquarium can be easy to install in your homes and offices.  You can select from the list of its included dimensions of aquariums or you can build to order practically any size of up to 2000+ gallons which are professional looking and have a commercial quality that is built to last a lifetime. This company has been providing services to many different clients that include hospitals, nursing homes, dentists and doctor's offices, and restaurants. Moreover, many zoos, pet stores, and nature centers use their fish tanks for displaying aquatic animals of all kinds.