Fish tanks play a vital role in providing a secure place for the living of your pet fish. You naturally strive to deliver a comfortable environment to your fish if you love them. This demands to select the best fish tank that possesses splendid features that turn your plan a success. The whole experience can turn boring by one wrong choice of a fish tank. Choosing the right type of fish tank is crucial because the health and wellbeing of the fish is your priority.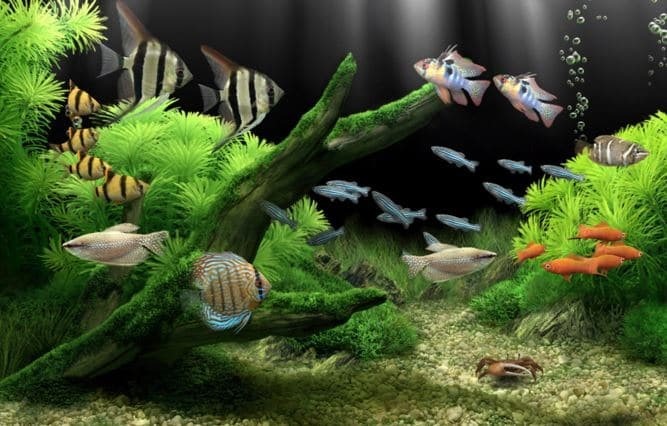 When selecting a fish tank, you first need to choose the kind of fish you want as a pet. Conceivably, the most basic distinction among fish is between salt and freshwater species. After thoroughly researching the type of fish you want, you choose to pursue various types of fish tanks; each one specific to the needs of your fish. Here are different types of fish tanks from which you can select accordingly:
1. Freshwater Aquariums:
Fishkeeping is a hobby and freshwater fish tanks are a 'standard' whenever this hobby is discussed. These are simpler, and far easier to maintain. Their water temperature is regulated between 72-84 F. This type of serves as a great tropical fish tank for beginners. Freshwater tropical aquarium hobby offers a vast selection of fish. The majority of freshwater fish can be purchased at an affordable price as compared to marine fish. 
2. Saltwater Aquariums:
Saltwater aquariums contain saltwater for the survival of their fish. In order to make a saltwater fish tank, you need to mix salt before adding water in the tank. These tanks offer a wide variety of beautiful fish, bright-colored corals, and eye-catching invertebrates. All these specimens are usually a little expensive in comparison with the freshwater specimens. Generally, saltwater fish need special diets and are a little more sensitive to water conditions. 
3. Cold Water Aquariums: 
As the name indicates, these aquariums contain cold water with their temperature below 70 degrees or at room temperature in most homes. Goldfish in this regard is the most common cold water species kept in these cold-water aquariums. Koi and goldfish ponds are a few examples of domesticated habitats of cold-water fish. Most of the people have goldfish aquariums in their homes today. Simply by adding proper equipment you can set up a goldfish aquarium and in return increase the lifespan of your pet goldfish dramatically. Some species of cold freshwater fish are expensive as compared to the standard goldfish. 
4. Brackish Aquariums:
Brackish aquariums are relatively far between in the fishkeeping hobby when discussing fish tanks. Brackish water is a combination of saltwater and freshwater. You can say it is in the middle, not completely freshwater, at the same time not potent as saltwater. It offers a limited variety of fish with most sought-after being the Puffer labeled as 'Freshwater Puffer' when in reality it's a brackish water fish. Generally, people haven't been much success with brackish water fish because of difficulty in maintaining hard water conditions and most of the fish that are brackish are not accommodated properly before they are brought in your fish tanks.