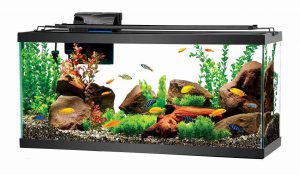 Fish tanks can surprisingly become heavy when full of water. It is a very significant part of operating and owning an aquarium to find out how much it is going to weigh after filling it. In this way, you can also ensure if the table, cabinet and even the floor is up to the load or not.
How to Determine Fish Tank Weight?
A fish tank's weight will depend on several factors. Some of them are commonly known, while others are often overlooked. Here are the basic elements that determine fish tank weight.
Size/Capacity
The primary factor that determines a fish tank's weight is its size or capacity. Water is the primary contributor to the weight of an aquarium. The bigger the tank, the more water it will hold and the heavier it will be.
Material of Construction
The materials used for the construction of a fish tank will also factor into its weight. Most aquarium enclosures are either made from acrylic or glass. Acrylic is significantly lighter as compared to glass. It can dramatically impact the weight of aquariums, both small and large ones. Fish tank weight may also depend on the quality of the material. Some types of glass or acrylics may be heavier than others. However, the difference may not be that significant.
Wall Thickness
The thickness of walls is another factor that will impact a fish tank's weight. Fish tanks have different thicknesses, which may be expressed in millimeters or mm. Their walls may be anywhere from 2mm to 10mm thick, or even more. Thicker walls have more mass, thereby increasing the weight of the fish tank.
Accessories and Decorations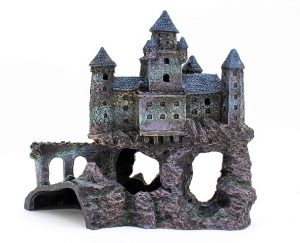 The accessories and decorations employed in an aquarium will also impact the fish tank's weight. Many devices like filters, bubblers, a hood, LED lights, bulbs, heaters, and backgrounds can be placed in a tank. They will add to the weight of an aquarium. If you use artificial plants, houses, and other objects in an aquarium, they will increase its weight. Generally, decorations weigh more than accessories.
Substrate Type and Thickness
The substrate is often an overlooked factor when determining a fish tank's weight. Gravel is a popular substrate for fish tanks. You can expect to add one pound of gravel per gallon of water in an aquarium. For a 30-gallon aquarium, you will be adding 30 to 40 pounds of gravel. It will give you approximately a one-inch thick layer of gravel. A two-inch thick substrate layer will double the weight of the gravel.
Different types of substrates have different weights. Some will be heavier as compared to others. A one inch thick sand layer will weigh significantly more than a one-inch thick gravel layer. Therefore consider how the substrate affects the fish tank's weight.
How to Buy An Appropriate Stand According to Fish Tank Weight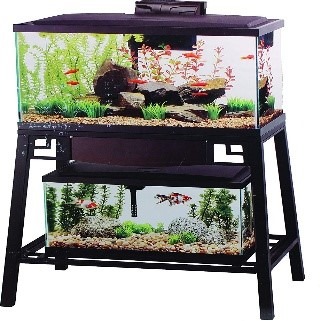 You should consider these following points when buying a new fish tank or moving it somewhere.
You should make sure that the structure where the fish tank is going to be placed is sturdy enough and is not prone to leaning or bending to avoid any disastrous event. It should also be taken into account that there are no issues with nuts/bolts or any sort of cracks in the tank stand to maintain its safety as once the filled tank moves in any direction, there is a large amount of weight in the form of water moving with it as well. So water doesn't stop moving if the structure stops.
The weight of the fish tank does not include the additional weight of canopy when it gets in its place. Although they are not that heavy but should consider when calculating all the weight along with filters that hang on the outside of the tank.
The material from which the tank is constructed-glass or acrylic should also be taken into account when calculating the weight. Glass is a little heavier than acrylic.
It makes a slight difference if you use freshwater or saltwater in the tank with the density of saltwater slightly heavier than freshwater but not by much.
The stands must be built from materials like iron or steel and have a durable construction. Most aquarium stand manufacturers specify a maximum weight limit for their products. Use one that is suitable for your fish tank's weight. Consider using a raised concrete platform to place large aquariums, especially in offices and commercial settings.
It may be extremely challenging to move tanks filled with water, and there is a possibility of splashing the water or breaking/chipping the tank. Moving a large water-filled aquarium may be infeasible and dangerous. When installing an aquarium, move it to the desired location, place it correctly, and then fill it up with water. If you want to relocate an existing aquarium, first remove all the water to lower the fish tank's weight. Do remember to relocate the fish to a temporary container filled with water. Then move the aquarium to a new location and refill it with water.
Fish Tank Sizes with their Weights
Fish tanks come in a variety of sizes ranging from 2.5-180 gallons or more. The tables below will guide you about the weights of different sizes of aquariums when empty and filled with water. Remember that water 1 gallon of water weighs 8.34 pounds. So a 180-gallon fish tank filled with water and accessories weighs up to 2000 pounds. The weights below are rough estimates for glass aquariums and exact dimensions may vary by brands or the trim used for the aquarium. The acrylic aquariums will weigh a little less. The weight of water also increases proportionately to the salt weight added to the water. 
How Much do Small Fish Tanks Weigh?
Small fish tanks are not always recommended for beginners as they can get tricky to manage sometimes if there is a slight change in their water chemistry such as pH or ammonia changes which can have a big effect. Still, if you decide to keep a small-sized fish tank remember not to overstock it with a lot of fish because of their small biofiltration capacity, since good filtration is an absolute necessity for small fish tanks. Below is the table that provides you sizes and weights fish tanks up to 15 gallons.
Small Aquariums
Tank Size
L x W x H
Empty Weight
Filled Weight
2.5-gallon
12″ x 6″ x 8″
      3 lbs.
      27 lbs.
5-gallon
16″ x 8″ x 10″
      7 lbs.
      62 lbs.
10-gallon (leader)
20″ x 10″ x 12″
      11 lbs.
      111 lbs.
15-gallon
24″ x 12″ x 12″
       21 lbs.
      170 lbs.
15-gallon (high)
20″ x 10″ x 18″
       22 lbs.
      170 lbs.
How Much do Medium Sized Fish Tanks Weigh?
Medium sized fish tanks are mostly recommended for beginners as it contains sufficient volume of water that can minimize any harmful effects if they arise by chemistry changes in water and are big enough to handle a good number of fish. These tanks range from 20-40 gallon capacity. It is a good manageable size that can be cleaned painlessly and is easy to maintain as well.
Medium Aquariums
Tank Size
L x W x H
Empty Weight
Filled Weight
20-gallon (high)
24″ x 12″ x 16″
      25 lbs.
    225 lbs.
20-gallon (long)
30″ x 12″ x 12″
      25 lbs.
    225 lbs.
25-gallon
24″ x 12″ x 20″
      32 lbs.
    282 lbs.
29-gallon
30″ x 12″ x 18″
      40 lbs.
    330 lbs.
30-gallon (breeder)
36″ x 18″ x 12″
      48 lbs.
    348 lbs.
40-gallon (breeder)
36″ x 18″ x 16″
      58 lbs.
    458 lbs.
40-gallon (long)
48″ x 12″ x 16″
      55 lbs.
    455 lbs.
How Much Do Large Sized Fish Tanks Weigh?
These large fish tanks contain sizes of 50 gallons and more capacity. As they are sufficiently large, you can stock more fish in them but this also makes maintaining them harder. You also need to ensure that the cabinet and floor where the tank is to be placed filled with water and all the accessories are tough enough to withstand its weight that is in excess of 1 ton.
Larger tanks are at greater aesthetical appeal, especially when you create an aquarium of great diversity. But you should also pay attention to scale of the fish tank in relation with room and its surrounding where it is to be placed like if there is enough space between the wall and tank for hoses and accessories, or if the room is high-traffic, or if there are any area constraints that can lead to broken glass or any accidents. These are some important questions to be considered when making such a notable investment of time and money.
Large Aquariums
Tank Size
L x W x H
Empty Weight
Filled Weight
50-gallon
36″ x 18″ x 19″
    100 lbs.
   600 lbs.
55-gallon
48″ x 13″ x 21″
    78 lbs.
   625 lbs.
65-gallon
36″ x 18″ x 24″
    126 lbs.
   772 lbs.
75 gallon
48″ x 18″ x 21″
    140 lbs.
   850 lbs.
90-gallon
48″ x 18″ x 24″
    160 lbs.
   1050 lbs.
125-gallon
72″ x 18″ x 21″
    206 lbs.
   1400 lbs.
150-gallon
72″ x 18″ x 28″
    308 lbs.
   1800 lbs.
180-gallon
72″ x 24″ x 25″
    338 lbs.
   2100 lbs.
You should choose the size of the fish tank accordingly. It is believed that the larger the tank is the happier your fish will be and easier is its maintenance. However, you should not select an aquarium just because of its capacity but it should be sufficient for your fish to thrive. In case you cannot provide a suitable size tank for your fish, you should go for another species of fish to keep.