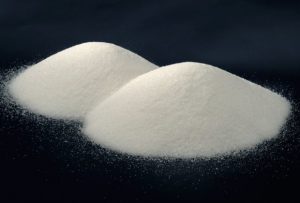 Betta fish is a shiny colored sensitive fish that have unique behavior. It can easily get stressed and irritated by sudden atmospheric changes which can also affect its health with this behavior. 
Using aquarium salt can be considerably beneficial for your Betta's health if used properly and after thorough research. It is an inexpensive preventative measure that is not hazardous to the beneficial bacteria in your tank when used at the suggested dose. It is worth considering how just an ounce less can be ineffective and one extra ounce of salt can kill your Betta fish. Hence, using aquarium salt at the recommended dose is highly important. 
Types of Aquarium Salt for Betta
Epsom salt 
Magnesium sulfate which is a saline laxative used as a remedy to reduce swelling in humans. It has the same positive effects on fish too. It can be easily found everywhere, usually in first aid aisles, general stores or even in gas stations. This salt often comes with dyes and scents to be used by humans, but you should ensure that it is unscented and undyed Epsom when using for your fish. You can use 1 Tablespoon of Epsom salt per gallon of water. Betta fish should stay for 10-15 minutes in Epsom, with 10 for less severe need and 15 for a more severe need but never exceed this time. You should also acclimate your fish for 2-5 min before returning to the tank in this mixture to avoid shock. The benefits of using Epsom salt include:
It helps in treating swim bladder disorder and works as a laxative for Betta.
It helps the fish to swim and be able to sink better.
Basic Aquarium Salt 
Sodium chloride which is exclusively found in aquarium shops and general stores with fish sections. It is the most inexpensive of all fish salts used. This salt can also be found as non-iodized salt, table salt or even ice cream salt. It is the simple salt we use for our daily purposes. However, the only difference is that aquarium salt does not contain any additives and comes from evaporated sea water. You can use 1 Tablespoon of Aquarium Salt per gallon of water. Betta can stay for 5-8 minutes in this salt mixture depending on the severity of the illness but do not exceed this time. The time recommended for Betta to stay in this mixture is relatively less because it is reportedly more uncomfortable and dangerous as compared to Epsom salt. You should acclimate your fish for 2-3 minutes before going back to the tank in this mixture. This time duration is again less than Epsom to prevent the fish from being exposed to a higher dose of salt for a longer time. Its benefits include:
It features unlimited medicinal properties that are effective in treating many Betta fish diseases such as fin rot, helps heal wounds, fights infections, and prevent parasites like Velvet and Ich from sticking to fish. 
It can enhance your fish's capability to produce a protective slime coat which helps it when recovering from bacterial infection. 
Removing water from the body is one of the main tasks of Betta's kidneys, it lessens stress by aiding gill and kidney function in your Betta. By adding salt to the Betta tank, the amount of water that is absorbed by Betta is reduced which in turn puts less pressure on its gills and kidneys which enhances its kidney function. 
Both these salts have positive influences on your Betta's health. Epsom salt is popular for reducing swelling in humans so it is effective in curing swelling in fish as well. Betta fish is preferable to aquarium salt and is compatible with Epsom salt. 
When not to use Aquarium salt and Epsom salt?
Aquarium salt is of higher concentration and power that is useful for many healing purposes in fish. But this salt should be avoided when you want to treat bloating because your Betta fish requires to pass water and fluids and aquarium salt can potentially become a barrier when treating bloating. 
You should prefer avoiding Epsom salt in any case except bloating, swelling and wound infections. However, if you use it at times to treat your healthy fish, their immune system will be increased. 
Let us take a look at some of the aquarium salts for Betta fish available in the market.
API Aquarium Salt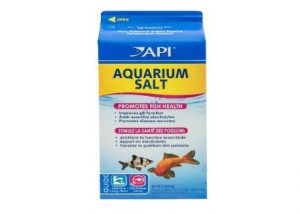 API has been providing innovative and research-driven solutions for aquariums and fish for over 50 years. This API Aquarium Salt for freshwater aquariums supplies the essential electrolytes that improve fish health and disease recovery. It is made from evaporated sea water and also contains natural active ingredients like natural fish tonic. This salt promotes the overall health of fish by enhancing their gill function and reducing the stress in freshwater aquarium. You can use API Aquarium Salt when setting up a new freshwater aquarium, treating disease or changing the water. You need to take extra care when using this salt with live plants as some of them can be sensitive. This all-natural salt promotes healthy bacterial growth and helps cure and control fish diseases like fin rot and Ich.
Instant Ocean Sea Salt for Marine Aquariums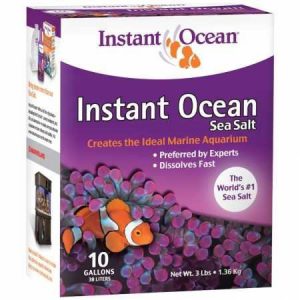 Instant Ocean Sea Salt for Marine Aquariums is one of the most carefully formulated and preferred sea salt among hobbyists, scientific research facilities and public aquariums. It is fast dissolving and is nitrate and phosphate-free. Furthermore, this salt contains all the essentials major and minor trace elements that are important for a healthy aquarium. It is a great choice for aquarists who wish to re-create a healthy and thriving natural ocean environment at home.
API Pond Salt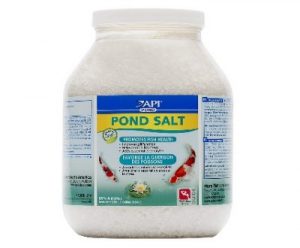 API Pond Salt is another pond water salt which supplies electrolytes that promote fish health and disease recovery. Just like API Aquarium Salt, it is also made from evaporated sea water and provides the essential electrolytes required by fish for oxygen uptake and release of carbon dioxide and ammonia from gills. This salt can be added to reduce stress in fish when setting up a new pond, when changing the water and for promoting disease recovery when treating fish health problems.