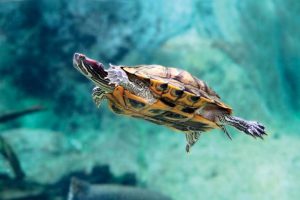 Turtles are adorable pets, but they need a healthy living habitat to thrive like any other aquarium pets. They require a little extra care like they need a somewhat larger tank, you have to keep the tank water a bit cleaner and make sure that the water is constantly circulating as compared to fish. A good filter that is specifically designed for turtle tanks can handle these requirements with no difficulty.
It can be a bit daunting to choose the best filter for a turtle tank and demands a little research before purchasing a good filter for your shelled friends. There are many filters available for turtle tanks on the market. We have made a list of some of the best filters for turtle tanks that can establish a perfect habitat for your aquatic reptiles.
Aqueon Quietflow Internal Power Filter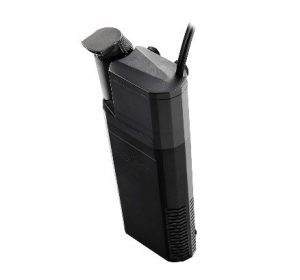 Aqueon Quietflow Internal Power Filter offers a four-stage filtration system and features impressive cleaning power. This filter consists of biological, mechanical, and chemical filtration, all of them preceded by a wet/dry diffuser grid which acts as a productive pre-filter to stop clogging.  Its chemical filtration stage consists of activated carbon that gives the water a crisp and clean look by eliminating dissolved organic substances. As the name suggests, it is virtually silent which is beneficial if your turtle tank is located in the main area of your home. Furthermore, the pump doesn't need any priming and will automatically start up if the power goes out temporarily. Its adjustable outflow nozzle is another great feature for keeping up water circulating all over the tank. It is available from 10-40 gallons sizes each having a flow rate of 155 GPH. Their relatively small sizes mean that you will require 2-3 of these filters for an average-sized turtle. This filter might be a bit expensive than buying one large filter. However, having multiple filters provides you the benefit of having filtration even when you are cleaning out one of the units.
Penn Plax Cascade Filter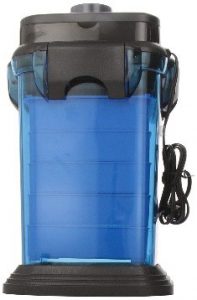 The Cascade filter by Penn Plax is one of the most efficient external filtration units on the market today. It is available in different capacities that range from 30-200 gallons making it greatly suitable for high-capacity filtration requirements of large turtle tanks. Additionally, the maximum flow rate offered i.e. 350 GPH is one of the most intense seen in a filter of this size. The large filter trays on this unit will last a long time before you will think about replacing them. Furthermore, changing the media is also not tough as it includes an easy-lift clamp that provides you access to filter media and other spaces that need maintenance. It also features a flow rate control valve that is essential to prevent any leaks during maintenance. This filter comes with a hard and durable plastic exterior and all its valves can be rotated 360 degrees which enables you to easily put it in a tight space behind or beneath your tank and still having the included tubing reach in the tank. Its downfall is that it is quite loud.
Tetra Decorative Reptile Filter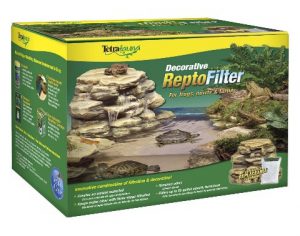 Tetra Decorative Reptile Filter for Aquariums is one of the best and impressive water filter systems on the market today. It offers a unique combination of aquarium aesthetics and filtration. Tetra Decorative Filter is not just an ordinary filter that becomes an unappealing distraction in your tank because of its mundane appearance, but it somewhat blends perfectly in your turtle tank. Moreover, it consists of large intake holes to prevent clogging and any damage to the unit. This filter features an internal waterfall system that can also act as a basking place for your shelled friends and a decoration that adds an aesthetic touch to your tanks. It is suitable for 60-gallon capacity aquariums and features whisper filtration that maintains clarity and neatness of water inside the tank. The only downfall of this filter is that it can be a little hard to clean it.
Fluval FX6 Canister Filter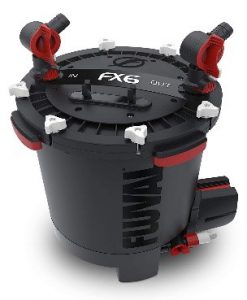 Fluval FX6 Canister Filter is among the best in terms of filtration and will not let your shelled pets down. This uniquely designed canister filter works ideally for large-sized 400-gallon aquariums and is rated with a flow rate of 563 GPH. A powerful motor comes along with its physically large size. It features a protective cover along with a precise-engineered bearing that minimizes the noise from the impeller and protecting it from moisture and debris. All you need to do is to add water to your turtle tank, plug it in and allow it to do its job with no need to push any button or siphon the water. Its self-priming pump is easy to set up that tracks the water flow and adjusts automatically to maintain a constant flow rate and purge trapped air every 12 hours. Furthermore, it also has a utility valve at its bottom which enables you to water change with ease. It is easy to maintain model that has a monthly indicator dial that indicates the last water change and maintenance.
Hydor Professional External Canister Filter
Hydor Professional External Canister Filter is such a great and well-constructed filter that the moment you feel it in your hand you will sense that it is worth every cent you spent on it. This filter can handle a large volume of water operating at a spectacular flow rate speed. It is made from sturdy plastic which makes it strong enough to withstand the pressure of water. It features a 4-clamp lock system which is vital to support the motor and ensure its proper functioning. Pushing its self-priming button 3 times and you are ready to go. It is great for aquatic life because it produces no sound providing a conducive environment to your pet turtles for breeding, growing and coexisting. This system also prevents any water leaks since it keeps all the points under s tight seal. Moreover, it offers a flow rate of 240 GPH making and works ideally with 20-150 gallons tanks. It is easy to set up and clean filter that can be used even by beginners.