It can be exciting to set up an aquarium as there are nearly endless possibilities available to create an eye-catching marine ecosystem in your home or in an office. Fish are often conceived as an easy no-fuss pet though it is true that they usually don't need much care but setting up a fish tank can become a much larger task than one can anticipate. Don't overwhelm or discourage yourself by choosing from the myriad of options and products in the market. It can be confusing to navigate the prospects but the process of choosing the right equipment for your aquarium can be much simpler if you know the basics. Researching which aquarium equipment is the best for your fish species can be the most interesting aspect for fish hobbyists.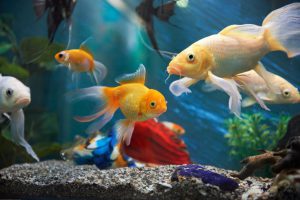 Here is a list of all essential equipment for your aquarium with detailed explanations that will help you to select and make sure that everything in your aquarium is in working order and suitable for your fish friends.
Filter      
Filters are one of the most essential equipment of an aquarium. They maintain the quality of water by effectively eliminating harmful matter from the aquarium. A filter needs to be working 24/7 to sustain fish life otherwise they will die. In the absence of a good filter, toxic ammonia that is released from remains of fish food and fish waste can pollute the water and eventually kill the fish. Your filter should provide 3-stage mechanical, chemical and biological filtration. In mechanical filtration, filter pad trap debris when water passes through it. In chemical filtration, toxins are removed when water passes through activated carbon. And in biological filtration, ammonia breaks down when water comes in contact with a medium colonized by beneficial bacteria; making the aquarium water healthy and safe for your pet fish. They are rated for a specific aquarium size, light to average fish load and have a gallon per hour rating which determines the number of gallons of water passing through the filter every hour.
Aquarium Water Conditioner
The aquarium water conditioner is required if you use tap water for filling the tank which is the most common scenario. It is the simplest source of water used in your home aquariums but it contains chlorine and chloramine in it which are harmless to us but are extremely dangerous for your pet fish. Aquarium water conditioner can neutralize both of these chemical compounds and turn the tap water safe and healthy for the fish. Most of the water conditioners for aquarium are in liquid form that is available in the market and just a few drops of it will instantly do the trick.
Heater
Stable water temperature is one of the essentials for your pet fish health. Tropical fish is the most used fish species in the aquarium trade. An aquarium heater is required for your tank unless you are living in a tropical region yourself. The heater maintains the temperature at a constant level and automatically turns off once it reaches the target temperature. The manufacturers of aquarium heaters suggest an aquarium size for each heater. Generally, a heater that offers almost 3-5 watts for each aquarium gallon is recommended.
Lighting
The lighting in the aquarium offers two important functions. It brightens the aquarium for your aesthetic pleasure of the aquatic life and decorations and gives functional light needed to maintain photosynthetic life in the tank as well. Generally, an aquarium with a fish-only community needs 1-2 watts of light per gallon. For example, a 30-watt fluorescent light fixture is suitable for 15-30 gallons aquariums. In case you want plants in the aquarium as well, you will require a light fixture that offers 2-5 watts of lighting every gallon.
Aquarium Air Pump
An aquarium pump serves the function of promoting gas exchange between the atmosphere and the water. Water flow is vital as it facilitates this gas exchange and keeps the water oxygenated allowing your aquatic pets to breathe easily. It also serves the role of heating the water evenly instead of pockets of motionless warm water about the heating element. But there are exceptions in which you don't need an air pump like when you use a hang on back power filter that creates a waterfall making enough surface movement.
Fish Food
Fish must eat like all other animals. All of them have a special diet need. There is a large variety of fish food available commercially in the markets that are easiest to use. But somehow few people prefer skipping the fish foods over human food like bread and rice. This might not always work as some of the fish might eat human food when they starve enough. But carbohydrates and rice cannot sustain them and they can eventually die of malnutrition. They should eat fish food which is high in fat and protein. You can easily get a bottle of fish food from the market which will last for months.
Live Bacteria Seeding Product
Live bacteria seeding products is essential to establish a nitrogen cycle in a new aquarium. Ammonia is built up continuously once there are fish in the aquarium. There are already good bacteria present in a well-established aquarium that can feed on toxic ammonia. But in an uncycled aquarium, ammonia builds up very quickly and can kill the fish. Mostly it takes weeks to over a month in building up the needed quantity of beneficial bacteria. In many cases, fish can be long dead before a new tank is fully cycling. Here comes the role of live bacteria products that have made life simpler in cycling a new aquarium. 
Substrate
The substrate serves two fundamental purposes in an aquarium. It makes your aquarium aesthetically pleasing and offers another surface for the growth of beneficial bacteria on the bottom of your aquarium filters. If you want to grow plants in the aquarium with hidden roots, the substrate is also required to cover it. There is a great variety of colors, sizes, and shapes of substrates available. Choosing the right substrate can improve the look of your tank and offer a habitat for good microorganisms as well.