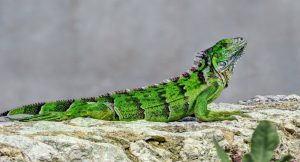 Iguanas are large lizards that need sizeable iguana tanks. Despite its size and the fact that its care is somewhat demanding, these reptiles are one of the most popular lizards that can be kept at any home. If you house it in a terrarium or tank that is too small in size, he will become depressed and sad. Consequently, your pet's life span will be shortened.
Your iguana tanks must be at least 6 feet long which is an appropriate size for a full-grown lizard. But there are chances that you are unaware of how large your pet may become and you may require a much larger iguana tank or enclosure than you initially thought.
A baby iguana can live in a pre-made iguana terrarium or tank, however, it has the potential to soon outgrow and you will need to buy or construct a new tank for him. Therefore, your pet iguana's tank or enclosure should be chosen or designed with the idea that there are chances of them getting very big. You might risk them living uncomfortably and even shorten their lifespan if you don't give them enough space to grow as big as it may.
There are a few good options which you can consider for keeping iguanas. Let us take a look at them.
Exo Terra AllGlass Terrarium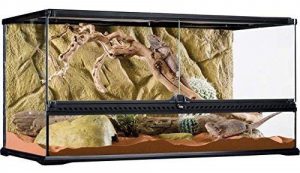 Exo Terra AllGlass Terrarium is a beautiful glass tank that comes in different dimensions, allowing you to choose the best enclosure for your pet Iguana's size. It features a special lock design that stops your pet from escaping. Moreover, it consists of a front door that provides you convenient access for several things like feeding, maintenance and retaining humidity and heat. This tank's patented front window is also removable which gives you the same advantages as the dual frontal doors. Additionally, it allows, UVB and infrared penetration that ensures good health of your Iguana. Thanks to its top, your pet will have enough air and light where it can bask throughout the day. It includes a very real looking mock-rock background as well. Exo Terra AllGlass Terrarium not only offers plenty of space for climbing but also provides room for cord and tubing for other accessories that will keep Iguana happy. This tank has a waterproof base and consists of bottom glass panels that offer easy installation of substrate heaters and other handy accessories. Its only downfall is that it's metal mesh is not corrosion-resistant.
Exo Terra High Glass Terrarium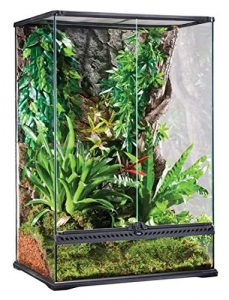 Exo Terra High Glass Terrarium is simply one of the ideal options that you can select for your Iguana as it is designed with great essentialities and quality. This tank comes as a complete package that you will require to maintain your pet lizard in the ideal comforting surroundings. It features a waterproof base that can sustain all sorts of leaks, making it perfect to be used in all types of situations. Furthermore, it consists of a dual door opening design that prevents your Iguana from escaping here and there. This door also helps you in cleaning and maintaining the tank easily along with feeding your Iguana. Measuring 24 inches x 18 inches x 36 inches, it offers enough vertical space for climbing. Additionally, it offers a screen top that allows the desired amount of UVB light penetration which ensures good health of your pet. You can also place the essential monitors and sensors in this tank as it contains the necessary wires and tube inlets. Exo Terra High Glass Terrarium is made from glass and thus needs proper care when handling it. Besides, you need to be very careful when this Iguana tank is under direct sunlight because it can get really hot inside it.
Zoo Med Reptibreeze IguanArium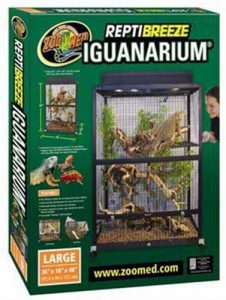 Zoo Med Reptibreeze IguanArium is one of the most reliable tanks that can be used effortlessly to comfort your baby Iguana and also adult Iguana up till the age of 4 years. It is constructed using strong plastic material that is durable and does not require much maintenance. Moreover, it is coated with sturdy PVC coated wiring to allow your Iguana to explore the place by jumping and climbing around without harming their snouts, claws, etc. This open-air tank offers sufficient space for your pet Iguana to enjoy freely in it. It comes with a removable basking tray that ensures its easy cleaning. Although it does not include the needed decorations for the enclosure but they can be customized and arranged accordingly. Even if you have no prior experience of setting an enclosure for your pet Iguana, this easy to set up iguana tank hardly takes a maximum of 45 minutes to set up and your pet is ready to be placed in it. However, its only disadvantage is that this tank is not fit for a fully grown Iguana.
Zoo Med Reptibreeze Open Air Screen Cage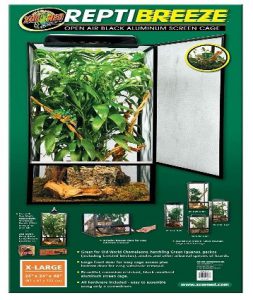 Zoo Med Reptibreeze Open Air Screen Cage is another great enclosure for Iguanas that is reliable and safe. It has an open-air design that offers the maximum amount of airflow for your pet Iguana. It is one of the most long-lasting options without being too heavy, all thanks to its anodized aluminum construction. All the important hardware that is required to construct this tank is included with it and you will only require a screwdriver to assemble this enclosure. This tank comes with an innovative design consisting of two front door facings which provide you main access. It also features a bottom door that can be used for easy substrate removal. Furthermore, Zoo Med Reptibreeze Open Air Screen Cage is easy to assemble and comes with all the essential parts. You can also decorate it according to your choice. Measuring 24 inches x 24 inches x 48 inches, this enclosure offers plenty of space for baby Iguana to young Iguana. Its strong walls are ideal for your pet enabling them to climb and explore easily. Its only disadvantage is that it does not offer sufficient horizontal space.