Fish are fantastic pets but they may turn out noisy if you don't choose the right equipment. Fish excrete in the same water of aquarium since they are not the cleanest creatures on this planet. Aquarium filters are required to keep your aquarium water clean and healthy for your pets. However, some aquarium filters produce noise that can be a source of disturbance for you if the aquarium is kept at a place where you work or talk with your guests. You can also not sleep peacefully by the constant noise of filters and running motors if the aquarium is placed in your bedroom. A silent aquarium filter does exist and actually, there is more than one.
There are many models of quiet aquarium filters available in the market. So selecting the best one can be a task. Choose it wisely, otherwise, they will be floating on the surface of your aquarium when you wake up. Here is a list of a few quiet aquarium filters:
1. Eheim Classic Canister Filter Series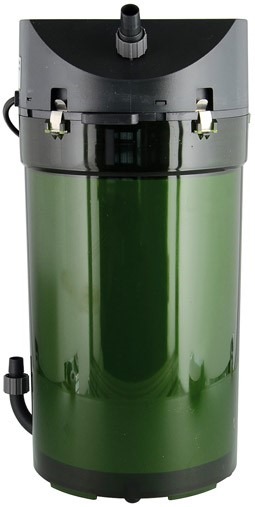 Eheim is currently manufacturing one of the quietest aquarium filters in the market. You can only feel a slight vibration when you place your hand on it. Only this slight vibration can be felt no humming sounds whatsoever. This is one of the most important features of canister filters allowing its users to select them for life for their aquariums. These filters have superior filtration properties and are highly durable with a complete lack of noise. It has a high level of efficacy even for larger tanks. It is extremely easy to maintain and reliable with cleaning required every 2-3 months. Any of the canister filters are designed to operate silently but in comparison to other types of filters, Eheim is the quietest among all the quiet ones.
2. Marina Power Filter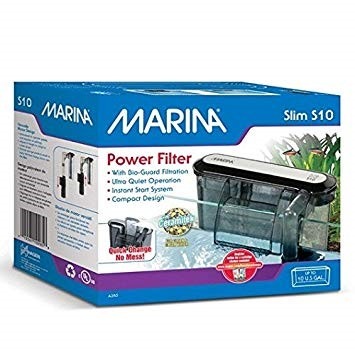 People have that misconception that power filters can only be used for large aquariums. But Marina Power Filter performs the function of filtration in small aquariums. It is a small device that is placed behind the aquarium that cannot be noticed by your aquatic pets like the design of Slim S20.  If you are wondering how quiet the machine is? Here is the answer to it. Marina Power filter comes with a motor that is submerged in the water. Therefore the vibrations and the noise is dampened due to this effect. Hence there is not much noise that can disturb your fish friends.
3. Marineland Penguin Power Filter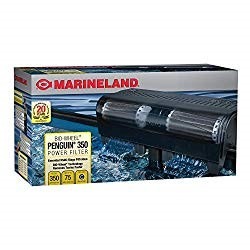 Marineland Penguin power filter is a powerful 3 stage filter. It is a good priced quiet filter that has a recognized water flow rate. It is a good deal when choosing a suitable aquarium filter. This filter can hold up to 75-gallons water at a time. It helps in the removal of waste, bad odor from water and fixes its discoloration as well. It has two vented covers that reduce noise and vibrations resulting in a silent aquarium at your service. This filter also contains mid-level intake strainers that ensure its noiseless feature.
4. AquaClear Power Filter: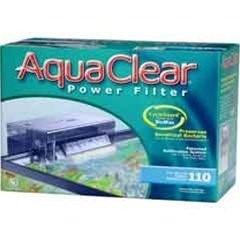 If you are interested in getting more control over the filtration system of your aquarium and want to achieve fine-tuning between your aquarium environment and water flow control, then AquaClear Power filter is something that you can choose. This filter can hold up to 110 gallons of water in a fish tank. But one can start with a medium fish tank like 20 gallons. AquaClear filter possesses the feature of the re-filtration system. This means that this machine filters water many times to eliminate debris. The best thing about this little product is that you will not hear any noise while standing next to it. There is just extremely low humming noise, besides that there is nothing. AquaClear has a long-lasting body that never rattles while working.
5. Polar Aurora 4-Stage External Canister Filter with 9-watt Uv Sterilizer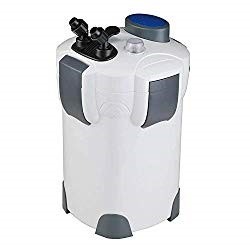 Polar Aurora can take care of large aquariums like those of 200 gallon water capacity. At the top of its gears, this machine can achieve a 525 GPH water flow rate. This filter is inherently quiet. This is due to its thick and sturdy construction. The sounds are muffled and the outside is kept quiet because of the thick nature of its walls. It contains a UV sterilizer inside it which exposes the algae and bacteria to ultraviolet light (UV Light) and eliminates them. This handy tactic allows you to have clean and healthy water for your pet fish.
6. Fluval (x)06 External Canister Filters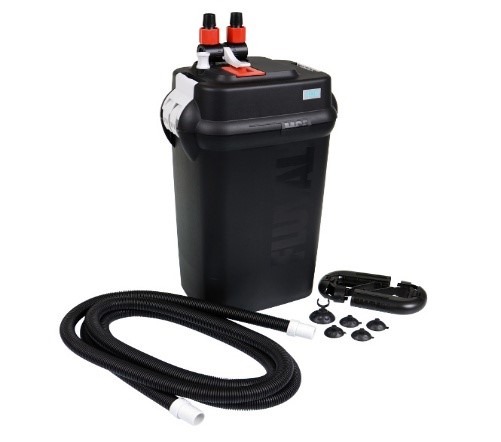 The Fluval 06 series are one of the best performers when quietness is concerned. These filters have their patent technology for dampening the sound in the motor. You can only hear them work when you place your head inside the aquarium stand where you place them. They are a good choice for people with light sleep or who get easily distracted or disturbed by background noise. The only time they make loud noise is right after you install them. This is due to the presence of small air bubbles inside. This problem can be solved by priming. Priming helps in extracting air from the cartridges. This filter is easy to maintain and highly durable that probably lasts 5 or more years.
7. Pen Plax Cascade Canister Aquarium Filter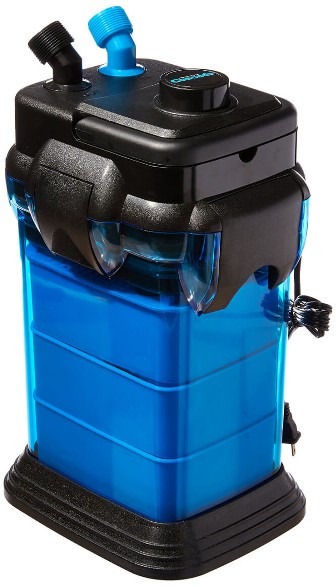 The Penn Plax Cascade is another impressive canister filter that operates without sound. They are of reasonable price and come with super customizable features. These filters are strong and move a lot of water. The Cascade series of Penn Plax is applicable for large aquariums housing long-finned fish. They are advertised for pumping up to 350-gallons per hour. If at some point these filters start to make a noise of some nature- that is probably due to the trapped air inside. But the good thing is they have self-priming buttons installed in them which can solve this. Therefore, this is an excellent filter that can pump thousands of water gallons in a day with complete silence.